The Essential Video Conferencing Hardware for Small Businesses
Kate Waddon
October 12, 2021
3 mins read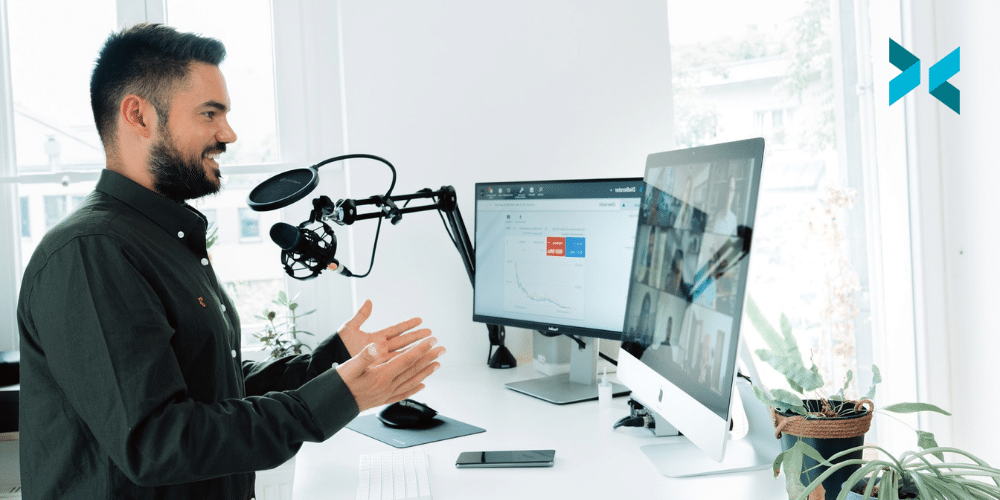 This last year, it's become clear that video conferencing is the way forward for businesses of all shapes and sizes. Many companies have learned the value of remote meetings. It can increase your potential client and collaboration base, as well as enabling you to have a more flexible workforce. If you're just starting out as a business, or if you suddenly find yourself engaging with more online communication, what hardware do you need for effective video conferencing? We'll take you through the basics.
Essential video conference hardware
It's actually pretty straightforward. You need to be able to see, be seen, hear, and be heard. If you're using platforms like Zoom or Microsoft Teams to engage in virtual meetings, there's very little needed except for a computer, tablet, or smartphone, some sort of webcam, and a mic. You can improve your video conferences significantly, however, by combining software like Zoom or Microsoft teams with our XSplit Presenter. It makes delivering presentations to your company so much easier and even lets you add a little flair to them. You'll be able to annotate with a virtual pointer and make use of the virtual green screen to remove your background and keep your team engaged.
If you're a small company with numerous team members, you'll need to make sure that every person has access to the right kit. With this in mind, we'll look at easy and low-cost options, and give you some tips about making your meetings look and sound great.
Can you hear me? The importance of getting the right mic
Once upon a time, a small company could get away with one online-ready laptop, which was used by anyone booked onto a virtual conference. These days, with our teams more likely to be working remotely themselves, it's important that everyone has good access to tech. Make sure that everyone in your team has a decent webcam and mic, along with reasonable internet bandwidth. If these aren't in place, any online work can be incredibly stressful.
Starting with speaking: do you stick with the built-in mic or go for a separate one? We've discussed mics before but briefly, most modern laptops have a good built-in microphone. There are also plenty of webcams with built-in mics like the Logitech C920, which has remained a firm favorite. However, if you or a colleague is going to be doing a lot of online presentations, you may prefer the clearer sound of a separate mic. There are plenty of USB mics that offer optimal sound quality such as the Blue Yeti, Snowball, or the Elgato Wave:3. For something that's a little lower in price, the HyperX SoloCast USB is ideal. It also has a handy little mute button that's perfect for conferences.
Do you need a headset?
In theory, you don't need to use a headset with a built-in mic for video conferencing but they're pretty useful. Some remote workers prefer to use a headphone and mic set up, as it cuts out any background noise (hence their use in call centers), and can help with focus. If your team will be returning to a workplace but continuing to liaise with other collaborators online, headsets will help.
You can get USB, noise-canceling lightweight headphones with mics like the Jabra Evolve range that aren't too costly. But, you could also make use of a number of gaming headsets that are ideal for canceling out background noise. The HyperX Cloud Mix and Logitech G Pro X for instance, have excellent mics. The latter even lets you play around with customization to control the clarity and output level of your voice.
What's the right sort of webcam for video conferencing?
When it comes to video conferencing, most of us simply use our laptop's camera, while feeling vaguely self-conscious about the awful angles. If you're not happy with your computer's camera, you can get an external USB webcam, and these are ideal if you need to capture a wider view than simply your face (for example, there are a few people in your room, or you need to demonstrate something). The Logitech C920 that we mentioned earlier is a great option for a USB webcam. It has excellent sound quality from the built-in mic but it's also great in low-light settings and has full 1080p HD video.
At XSplit, we've come up with XSplit Connect: Webcam, which lets you use your smartphone as a wireless webcam. Download the app for your phone and the software for your laptop or PC, and there you have it – an instant, non-static webcam. You can also use the XSplit VCam, which also acts are the software for Connect: Webcam, to blur or change your background for a more professional (and private) look.
We've covered a few of the essentials but there is a huge variety of hardware out there that will make video conferencing a breeze for small companies. Don't forget to also find out more about how to use XSplit VCam with the main video conferencing platforms in our blog.
Kate Waddon
Kate is a freelance content creator and a working-from-home veteran of over 12 years. When not researching and writing, she's to be found on her local beaches (in all weathers) with her kids.
More from this Author