VCam 2.1 Delivers New Features & Fixes in our Latest Update
Melvin Dichoso
March 04, 2021
2 mins read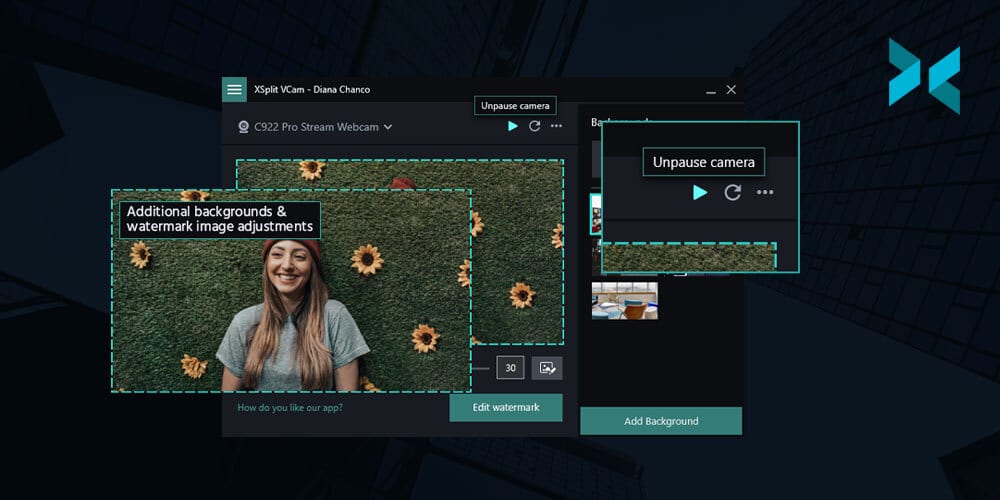 Following the success of VCam 2.0, VCam 2.1 brings more quality of life improvements and bug fixes in our latest update which you can install through the app or by downloading from the VCam page. Let's briefly go through what's new in this one.
Custom watermark
The ability to add foreground images to a webcam feed is a highly requested feature and we can see why! Custom watermarks in VCam 2.1 can not only enhance your professional look but also provides value to your overall presentation as you can use it to demonstrate something without needing to add another application to the mix. We've covered this in greater detail in this blog post.
Pause camera feed
The need for a quick break is sometimes inevitable whether you need to use the bathroom, answer an important phone call, or just rearrange yourself. Currently, the two options are to turn your webcam feed off temporarily, or just disappear which can be argued as looking a little unprofessional. Now, with VCam 2.1, you have a third option; pausing your camera feed! Here's how it works
Hue & saturation adjustments
In our last update, we introduced background adjustment tools that afforded users the flexibility to set themselves up exactly how they wanted to look on camera. Hue and saturation adjustments are a step up on this as you'll be able to make quick changes on the fly if you are in a lighting condition that is less than ideal. Here's how you can set it up in VCam 2.1.
Bug fixes in VCam 2.1
Like any update, we've fixed a bunch of bugs and quirks that have been reported from the previous versions. Most notable are the following fixes:
Auto-exposure on camera reload being forced
NVIDIA GeForce RTX 3070 is not set as the primary hardware acceleration from calibration. Acceleration resets to automatic after selecting RTX 3070.
Settings cannot be accessed when there is no available camera source
Computers with multiple network adapters and special characters in computer name may not show the mobile camera feed
If you have any questions or feedback, let us know in the comments section below. You can also chat with us through our social channels @xsplit and our Discord community at discord.gg/xsplit. Finally, if you have any features you would like to request, you can submit them through the VCam request page here! 

Melvin Dichoso
A basketball junkie, blogger, headphone enthusiast, aspiring chef, and traveler wannabe. Does social media and various other stuff for XSplit.
More from this Author