XSplit V2 is Available for Download
Melvin Dichoso
June 29, 2015
2 mins read
We apologize for the delay in launching #XSplitV2 but we're happy to announce that it's finally now available to all!  You can now download it by going to www.xsplit.com/download.
It's been a long time coming but today we want to share with you XSplit V2, our biggest update yet. For the past several months we have been working hard with the community to introduce a range of new features and optimizations, aimed at creating an even easier and more intuitive live streaming and recording experience. We can't wait to share with you what we've been working on these past twelve months, so without further ado, allow me to personally introduce you to XSplit V2.
Brand new features for all XSplit Licenses
For us, XSplit has always been about creating the simplest, easiest and friendliest live streaming and recording application around. With XSplit V2, we hope to extend that promise to our licensing options by introducing a range of new features and improvements to our Free, Personal & Premium users.
For XSplit V2, we wanted to ensure that everyone benefited from this update whether you're a Free, Personal or Premium user. For Free users, we wanted to make both live streaming and recording as accessible as possible, which is why we have lifted some of our old restrictions allowing people to now broadcast in HD without obtrusive watermarks and as many limitations. For Personal and Premium users, we wanted you to try out first hand some of the cool new features we've been busy working on.
Here's a quick look on some of the new features of XSplit V2
When we asked you how we could improve your XSplit experience, we received a ton of useful feedback, including suggestions for new features, proposed fixes and improvements. Thanks to our community focus group, VIPs and development team, we've worked hard to provide users with a simpler, more robust, and (most importantly) more streamlined experience across both our applications.
We encourage everyone to visit both our revamped XSplit Broadcaster and XSplit Gamecaster product pages to take a look at the range of new features.
Here's to the future
Since launching our public beta back in 2010, XSplit has become a fixture in the live streaming community by striving to provide a premium quality experience for broadcasters and content creators alike.
Since those early days, we have had the distinct pleasure of being able to watch both our users and partners flourish, thanks to ever improving internet infrastructures around the globe and platforms such as Twitch making it easier than ever to share your content.
During this time, we've been busy. We launched XSplit Gamecaster back in February of this year and our dedicated team has been working behind the scenes to create cool and innovative features you won't find anywhere else
As we approach the end of 2014 and enter the new year, XSplit V2 signifies the start of something special. For us, XSplit V2 is the start of a new direction. A direction that focuses on maintaining ties and encouraging innovation from our community, while continuing to introduce remarkable new features across all of our applications.
These new features, improvements and bug fixes are your contributions. It is you who helped us improve our products through your feedback on our website, social media and forum. We're very thankful for all your support and we hope to return the favor with XSplit V2.
Happy Broadcasting
Henrik Levring CEO & The XSplit Team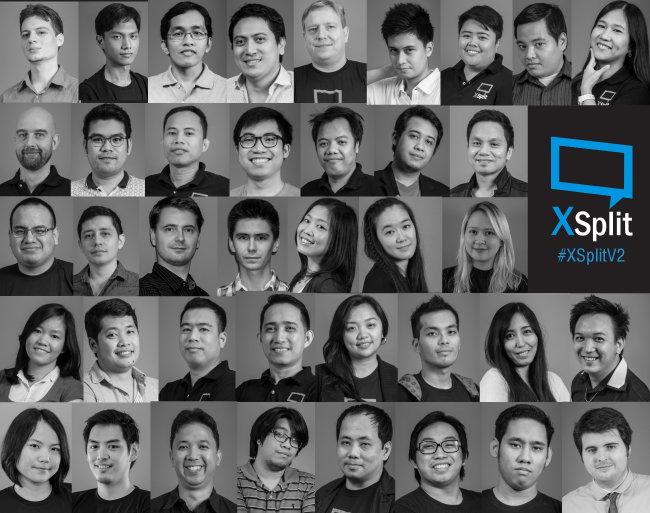 Melvin Dichoso
A basketball junkie, blogger, headphone enthusiast, aspiring chef, and traveler wannabe. Does social media and various other stuff for XSplit.
More from this Author