XSplit Presenter is now available in public beta!
Chris Slight
July 06, 2021
2 mins read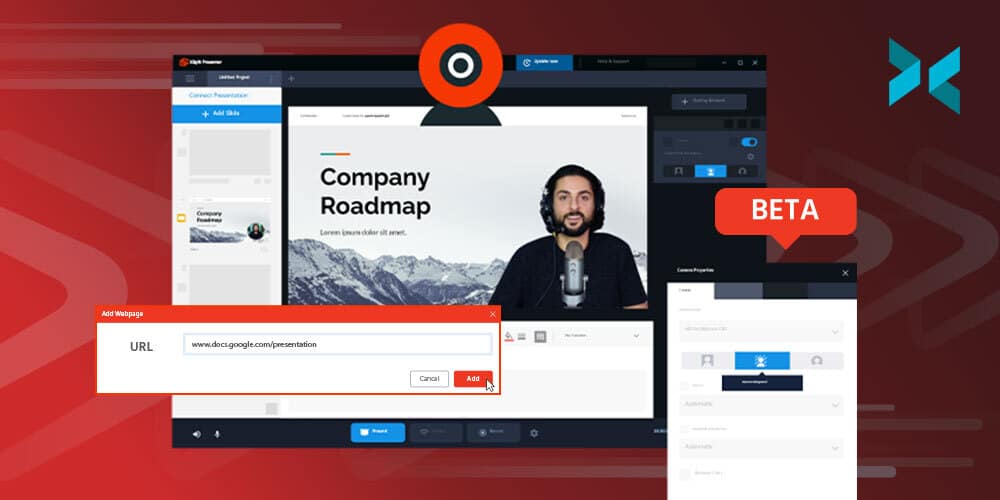 In the last year, we've seen a radical shift in the way we work together and here at XSplit and we thought, using the knowledge we've gained over the last ten years, that we could make the way we meet and present information better. We found that giving presentations with everything scattered over a number of windows, from our Google Slides, the webpage we wanted to show, and a YouTube video that demonstrates our point didn't make things run smoothly. We were asking "can you see my screen?" way too often for our liking! 
On top of that, we found having to choose between seeing our face as we gave a presentation, or seeing our slides, was removing either the information or the personal connection that can keep people engaged and connected with what we were saying.
Introducing XSplit Presenter
This is where we got the inspiration for XSplit Presenter, letting you add personality, flair, and interactivity to your presentations, pitches, and meetings. What we wanted to do was pull all your sources into one, secure program and let you add videos, websites, and your webcam (of course, using our VCam background removal tech) all in one place.
Full Integration with services you already know and use
Something we knew we wanted was integration with the services we are already using, so you'll find XSplit Presenter works with Google Slides, Microsoft Powerpoint, or even a PDF file! It also works as a virtual camera in all your favorite video call platforms like Zoom, Teams, and Skype, so no more worries about someone seeing a Messenger window pop up during your meetings as you choose what gets shared, not the share screen button!
Engage and Interact with your audience
Another thing we found we needed was the ability to address questions easily as they came up, so we built in real-time annotations and highlighting with our virtual pointer. Not only that, but you can easily pull in more sources, or interact with a webpage live inside the presentation so again, nobody needs to see your desktop and you don't have to break the flow of the conversation. Want to show your product page? Just click on it!
Multiple speaker support
Giving a group presentation? Using NDI sources from software like Skype you can add multiple remote speakers and seamlessly transition to them as the presentation progresses, even integrating them into your slides like your own camera.
We're going to be adding more and more features, including remote collaboration, so we're excited to go on this journey with you! XSplit Presenter is available to download and try for free during the open beta period so download it and try it out for yourself today!
We'd also love to hear your feedback, you can reach us here in the comments, on our social channels @xsplit, or on our Discord server.
Chris Slight
Chris is the Communications & Content Editor here at XSplit. You may find him voicing tutorials, on stage at events around the world, or right here on xsplit.com. Find him at chrisslight.net
More from this Author