XSplit is now available on Steam
Melvin Dichoso
June 24, 2016
2 mins read
We are pleased to announce that XSplit have partnered with indie game publisher and chat lurkers Devolver Digital to bring XSplit Broadcaster and Gamecaster on Steam. XSplit free is available now on Steam for – well, free – and the fully featured XSplit Premium is available for $9.99 per month. Check it out here: store.steampowered.com/app/433800/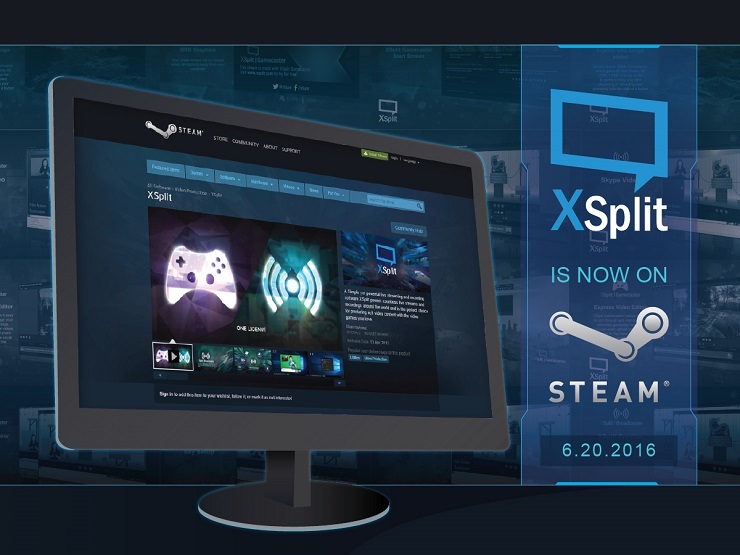 "We're thrilled to be partnering up with Devolver Digital to bring XSplit to players on Steam" said John Howe Marshall, CMO for SplitmediaLabs "Getting started with live streaming right now couldn't be easier, and we're looking forward to ushering in a new wave of awesome content creators and help them shape the future of gameplay broadcasting."
XSplit's availability on Steam should be appealing to those who want to organize their things in one place and having your streaming software of choice accessible from the same place you access all your games is definitely convenient.
This launch on Steam goes hand in hand with the well-received XSplit 2.8 update that we pushed out at the beginning of the month. In case you haven't updated to the latest version yet then make sure you update now either from our website/app, or through our XSplit Steam page.
Having this Steam version is also beneficial to those wanting to get a paid license but don't have a credit card as Steam's vast payment options can easily address the issue.
"There will never be a time in my life that I understand nerds watching other nerds play nerd games on the internet," said Devolver Digital CFO Fork Parker. "That said, you should buy XSplit from me and then stream all sorts of nonsense and get them subs."
We would like to take this chance and thank Fork Parker and Devolver Digital for making this happen. Make sure you guys check them out as well! Make sure to check out the full FAQ for our Steam release for more details.
Melvin Dichoso
A basketball junkie, blogger, headphone enthusiast, aspiring chef, and traveler wannabe. Does social media and various other stuff for XSplit.
More from this Author