4 Hidden Features in XSplit Gamecaster's Theme Overlay Editor
John Howe
October 29, 2019
4 mins read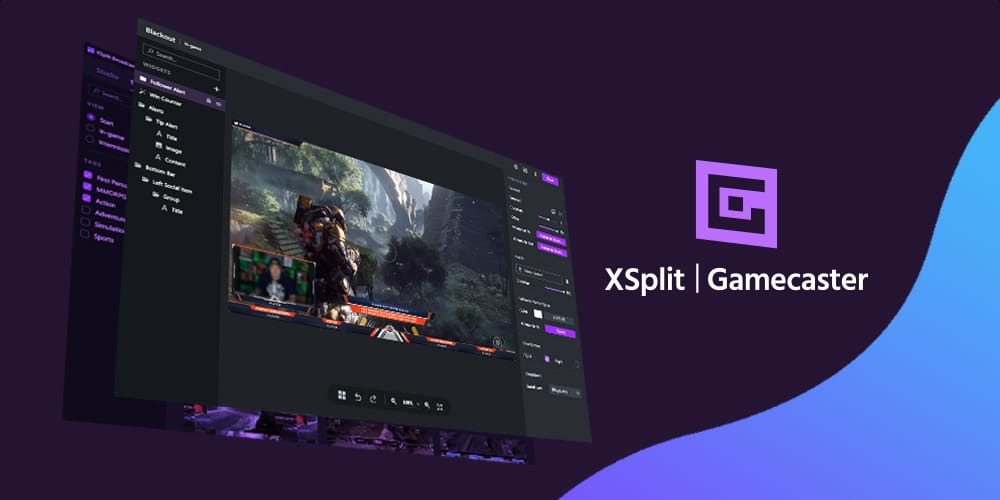 On the surface, XSplit Gamecaster V4 presents a simple and streamlined user interface to make streaming PC and Console games easier than ever before. In just a few short clicks a user can launch Gamecaster, select a theme and go live in less than a minute.  

However the team didn't stop there, and alongside creating an intuitive game streaming and recording app, also managed to cram in a ridiculously powerful theme overlay editor too. Initially, users that open the theme editor from the studio (by clicking the edit button) will have the ability to update their username, choose from a selection of sounds, add widgets choose which social icons to display and much more.

From the get-go, the theme editor gives the majority of users everything they need to fully personalize their stream to create something that fits their needs. Did you know though, there is a selection of additional options hidden behind the settings cog which can help take your stream to the next level. But before we dive into these secret features, it's worth giving a little context as to how the theme editor came about.

XSplit Gamecaster's frankly insanely powerful theme editor was built on the foundations of Strexm, a popular live stream overlay design tool that gained a ton of industry buzz a few years ago before being quickly snapped up by SplitmediaLabs (developers of XSplit) back in 2017. 

Since then, Strexm's co-founders Jon Young and Gareth Reynolds continued to iterate on the editor with our development team, working hard on refining, improving and rebuilding the editor into what it is today, a powerful and fully customizable WYSIWYG editor that removes the need for advanced graphic design applications. 

With that history lesson over, let's dive into some of the cooler and more hidden features in the editor:
Level up with Advanced Mode
Have you ever felt like the Gamecaster Theme Editor is not powerful enough for your needs? Or are you someone that just likes to have complete control over everything? Consider enabling the advanced mode within the editor. This feature is hidden behind the settings cog which can be accessed in the top left corner of the editor. Click it to open and you should see the option to enable advanced mode. 

A small word of caution however, this feature is not for the faint of heart. With the advanced editor enabled, absolutely every element on your stream presentation can be fully adjusted. We're talking fonts, size, colors, positioning and more. Advanced mode essentially unlocks a whole host of additional customization options which comes with its fair share of pros and cons. Pro's, of course, being that you have complete control of the look of your broadcast, Con's being… well, you have complete control of everything. This means that the probability of creating a hideous monstrosity frankenstein theme shoots up to ten fold. But hey… you do you, if fluorescent yellow all bold comic sans is how you roll, then more power to you.  
Razer Chroma Support for RGB goodness
Love Razer and own Razer hardware? XSplit Gamecaster supports Razer Chroma by syncing the popular hardware manufacturers' keyboards and peripherals with your customized theme. At first glance, this feature feels completely superfluous, and to some degree it absolutely is. However, on closer examination this neat little feature provides streamers with some additional ambient visual feedback, by triggering a change in color when a stream event occurs. This can be rather handy if you have turned your attention to your gameplay or something else going on, but it also just looks dope as hell too.
Potato mode for your old as dirt PC. 
Whether your PC is in serious need of an upgrade, or you just like squeezing out every last drop of performance from your hardware, Potato PC Mode is a handy feature built for you. Essentially removing any animations and flourishes from themes, Potato mode is great for whether you are trying to maximize performance or are looking for a no-fuss presentation. Potato mode can also be useful when troubleshooting issues, allowing you to get a better idea of what could be causing any frame drops in your stream presentation. Also, it's called Potato mode which is really really dumb and awesome.  
Access a library of reference background images
Depending on how you build your stream presentation, this feature will either be really useful or entirely unnecessary, but for this streamer, I was thankful it existed. Hidden away in the options is the ability to use a series of reference images from popular titles to get an idea of how your overlay will look, all without the minor annoyance of having a game running. Navigate and choose from a selection of game screenshots available from titles such as PUBG, Minecraft, League of Legends and more. 

I'll be honest, It's a very small detail, but can be incredibly useful if you are in the process of tweaking and testing a few elements in your broadcast. Let's face it, without this feature, you would be forced to either run the game (which seems a little like overkill) or grab your own screenshot, and who honestly has time for that? It's a handy little feature that won't be for everyone but demonstrates the attention to detail the team has to help with saving a few precious seconds. 
Change colors without leaving the editor
XSplit Gamecaster has more than 300 themes, but did you know many of them are available in multiple color variations? You may have noticed this when scanning for a theme on the marketplace, but for those looking to easily switch between the different color palettes on offer which editing, this feature is essential. 

In particular, it can be great for when you're just trying out some of the new themes available, and want to get an idea of how it will look in neon pink. To be honest, it's just an appreciated little feature that allows you to get a better idea of the options available without having to close your theme, go back to the theme selection directory and choose another. And hey, who doesn't enjoy saving a little time?

That about rounds it up for hidden features in the theme overlay editor, though in many ways only begins to scratch the surface on the customization options available. We still have yet to dive into the array of widgets available and what they do, as well as some other cool hacks our community have been discovering by testing out the editor.

As always, while XSplit Gamecaster is in Open Beta, anyone who tries out the app will be granted Free access to it for life, with no watermarks and no restrictions. So if you are curious to try out the theme editor, or some of XSplit Gamecaster's other awesome features, now is the best time to do so.  
We also have a growing Discord community which our product and dev team are a part of, along with a feature upvoting system for if you have any suggestions or improvements that could be made to the editor.
So let us know your thoughts on what we can do better, and drop us a message if you have tried out some of these hidden features for yourself.
John Howe
Chief Marketing Officer for SplitmediaLabs, developers of XSplit, Player.me, Strexm and Challonge. John also works on various indie game-related projects, launching the Indie[dot]XSplit program in 2016 with partners such as Devolver Digital, VersusEvil, Raw Fury Games, and more.
More from this Author