The Next Generation of XSplit Gamecaster is Here!
Jon Young
October 16, 2019
3 mins read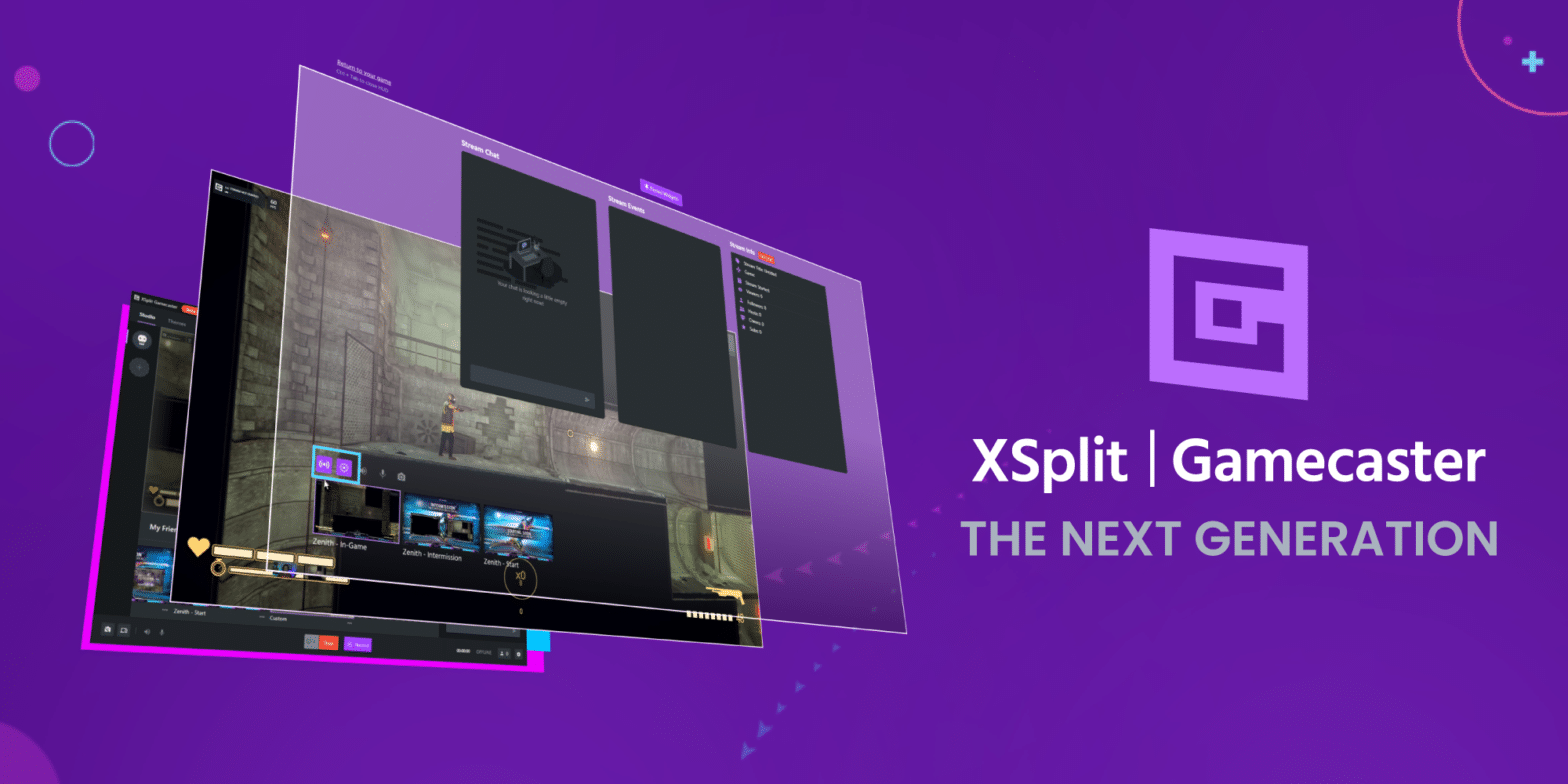 Easy streaming for Gamers
TLDR: XSplit Gamecaster V4 is in Open Beta and is completely free for all users to try! It has scenes. It has themes. It supports Twitch, Facebook, YouTube, and Mixer. It has alerts, event lists, stream labels and more. It's designed for game performance. It's the bomb!

In 2014, we launched XSplit Gamecaster as the simplest way to live stream. You opened your game, pressed CTRL + TAB and bam!, you were able to stream your gameplay without complications. Today we're pleased to announce XSplit Gamecaster V4! It's the same level of simplicity, only with way more features so that your streams always look awesome.
What's new?
We've rebuilt XSplit Gamecaster V4 from the ground up to make it the best in performance, simplicity, and features, including:
An overhauled user interface. Visually see your scenes, interact with chat, see your followers and subscribers as they acknowledge your greatness AND go live in an instant, all from one place.
Stream to your favorite platform. We have full and complete support for Twitch, Facebook, YouTube, and Mixer.
Single monitor dream. Only have one monitor to play with? Pin your chat on top of your game or even control your broadcast from inside your game with our revolutionary in-game HUD. It's as if the app doesn't even exist.
Become a pro in seconds. We have over 300 themes in a range of colors, League of Legends to Fortnite, animated to static, FPS to MMORPG. You name it, we've got it.
Optimized for gaming. You may have 99 problems but a potato ain't one with Gamecaster. We've worked hard to make sure each setting is carefully tuned to meet the demands of your system. Enjoy a lag-free experience next time you stream!
Out of the box capture card support. XSplit Gamecaster supports a number of capture cards. Whether you're trying to capture your master race PC, or your Xbox or PlayStation, it's easily done.
Lastly, it's completely free! 
What's next?
Your feedback is incredibly important to us. We read and try to respond to everything that's sent our way, and over the next couple of weeks and months, you're all we care about. If you're having an issue, need a tissue, or want to recommend a feature, just drop us a message on Discord and we'll do our best to help or let you know our thoughts.
Will XSplit Gamecaster Always be Free?
Update: XSplit Gamecaster will ALWAYS be free to anyone who joins during the open beta period.
We want to use this open beta to work hand in hand with the community to get a better understanding of not just how to improve the app, but also to find the best way to ethically charge for XSplit Gamecaster in the future (our devs need to eat, they can't just live on the cake). However, unlike other apps, we want to do this in a way that neither restricts or hampers the core experience of the app, or catches you off guard. 
So with this in mind, over the next period we will be watching, listening and working very closely with the community to determine the best way to go about this. 
Regardless though, we know not everyone can pay, which is why we will also be exploring ways you can continue to use the app for free long after the beta. This is something we look forward to sharing details on in the future. 
XSplit Gamecaster V4 is our next-gen product, and represents nearly a decade's worth of experience in creating apps for gamers and content creators. We are incredibly proud of the thousands of hours of work our team have put into this, and are thrilled to share it with you and the world. 

See you in the app and happy streaming!
Team XSplit
Jon Young
Jon is our resident Product Manager for XSplit Gamecaster! A big gamer at heart, you'll either find him dying hopelessly in the action or hiding at spawn! Twitter: @jonlineuk Discord: Jon#2542
More from this Author