Your handy pre-streaming checklist
Akemi Trinindad
November 14, 2019
4 mins read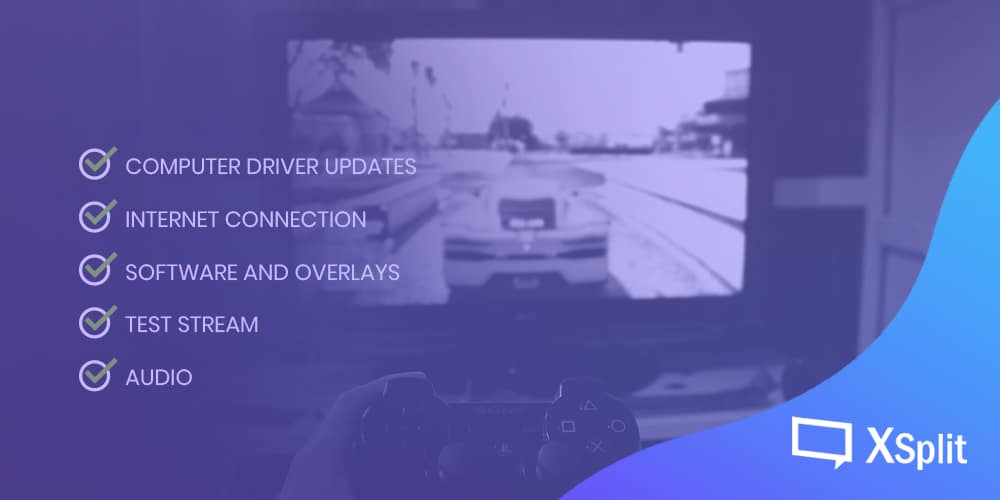 If you're new into streaming or a seasoned streamer, a good and simple checklist can help you make streaming prep easier and faster. It also ensures that everything is ready for your broadcast and there's a lesser chance of your live going bonkers in the middle of everything. Read on to know how you can create your own handy pre-streaming checklist below.
No matter how prevalent the streaming trend is, some might opt to be an audience more than be the streamer themselves. Why is that the case? Some people think that only tech-savvy people go into streaming/ live broadcasting, too many things to prepare and learn into doing before actually getting to the actual streaming content. They aren't wrong, but unbeknownst to anyone in the streaming realm – it need not be complicated at all! So here's a little pre-streaming checklist for those who are new to the industry. No need to follow this list to the tee, this aims to create a non-professional guide for new streamers and interested individuals on how they can prepare before going live on stream.
There are mainly 5 things that I think are crucial when beginning any stream, these are:
System and computer driver updates
Internet connection
Software and overlays, stream presentation
Test stream, and
Audio. You can read more below why these 5 things are the most crucial when starting a stream.
Check for updates
One pro-tip to live by is to make sure that everything – from your laptop or desktop software are up-to-date. I cannot emphasize this enough, you don't want an update pop-up ruining a perfectly good stream or an unavoidable restart prompt after a driver update. Or worse, the stream crashing or a black screen because of driver compatibility and system issues. That'll definitely throw you off the mood to restart the broadcast. You also have to note that this can't be 100% foolproof, updating everything before a stream can be risky. What if something breaks or a compatibility issue arises after the update? Here's where doing a test stream can be helpful to check if everything is ready for broadcast or if something broke and you need to fix it. Something to keep in mind.
Check your internet connection
Who doesn't rage when the internet speed drops? Nobody wants nor has the patience to watch a laggy and/or buffering stream. Admit it, even watching a video on YouTube at 240 on mobile and have to wait for at least 5-minutes to load – takes a lot of patience and you'll more likely to close the tab or window than watch it.
Having a bad internet connection can also cause you to stop streaming even before you start it. Think about it, you yourself wouldn't watch it; so what makes you think that others will? Now, don't start blaming your service provider – slow internet can be a direct result concerning a myriad of issues.
So, before streaming, make sure that your connection can handle the broadcast – some seasoned streamers say that a minimum of 5mbps up speed is enough, but then again, it still depends on the requirements of the game you're streaming and if your system can handle the streaming at all.
I generally use Ookla to check the internet speed but you can use whichever is available in your area if you can – you may also opt to wired internet connection over WiFi whenever possible for stability purposes. While you can still broadcast in lower bandwidth, most streamers still highly recommended having at least 3-5mbps speeds for streaming to ensure stability during the broadcast. 
Software and overlays, if any
Now, it's time to open up your software (whichever one you choose is okay, no discrimination here; but it'll be nice if you get to try the new XSplit Gamecaster *wink emoji* when it's free to download and use for your streaming needs. Did we mention that there are hundreds of ready to use overlays in-app?). 
Upon opening the software, check if your sources are all on the presentation. Are the layout and design okay for you? Are the placements alright? Would you need to add more elements to make your content more interesting? If all looks good then we go do a test stream.
Test stream, always
Pros being confident of their setup, it still pays to be extra careful of everything before going live.
Before doing an actual public stream, to check if my stream is ready to go, what I do is I stream privately first (on YouTube, my platform of choice) – to preview my set up and see if there are any tweaks that need to be made. If there's none – then I end the private stream and start the actual broadcast! But don't ever forget about the audio! I almost left that one out, but that's one thing that you can never ever forget to check before a live stream!
Audio
They ask why audio is part of the most crucial parts of the pre-streaming checklist – then ask them back, do you like listening to whacked music, garbled speech, and buzzy interference? Nobody likes that and so does your potential audiences. Double-check if you have the correct audio source in the presentation, and make sure that the audio monitoring is turned off or on depending on what you need for the broadcast. Check if the audio volume is audible enough for crisp sounds if you have background music on during the stream or the audio from the game you're playing – make sure that the volume levels are in perfect harmony with each other, that no one audio source overpowers the other.
Remember, check ya S-I-S-T-A before going live. System and driver updates – Internet connection – Software and overlays – Test stream – and Audio! I hope this helps new and seasoned streamers in their pre-streaming setup. I wanted to create an acronym that's easy to remember (and I tried to be witty on this one) and easily understood by all – maybe, but you get the idea.
Don't forget ya S-I-S-T-A before you stream-a.
I've also written a few things on the blog, you can find those here. If you have more questions about live streaming and techy stuff then join our official Discord server. We're also on Twitter and Facebook, technical support is here and most tutorials are on YouTube as well. Let us know if you need help with anything and happy streaming!
most tutorials are on YouTube as well. Happy streaming!
Akemi Trinindad
Social Media Specialist. She's mainly on Instagram @akemi_loves - loves food, travel and sometimes photography.
More from this Author