XSplit at DreamHack Winter 2015
Melvin Dichoso
February 29, 2016
1 min read
Last year was our first time attending DreamHack Winter co-exhibiting with MSI. It was a wonderful experience for us as we had fun interacting and also learned a lot. That being said, it was easy for us to decide that we want to go again this year.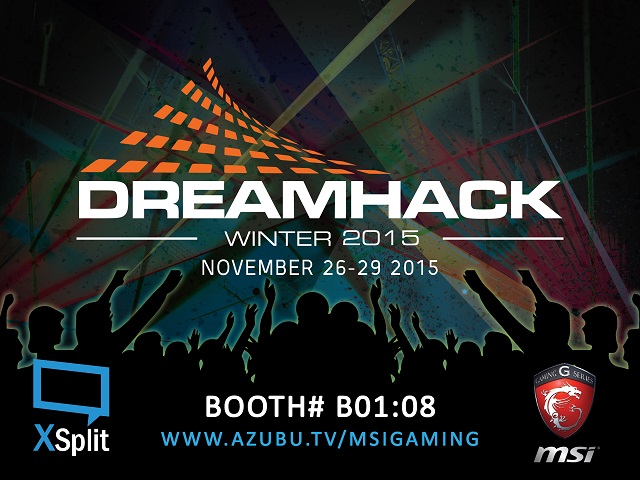 Just like last year, we will be co-exhibiting with MSI Nordic and will share a booth space (B01:08) with them. There will be a lot of CS:GO gaming action with pro-players and attendees for the event so if you're going to be in attendance, drop by the booth and see how you fare with other gamers!
All these actions will be livestreamed using XSplit V2 to Azubu over at Azubu.tv/MSIGaming. We will be producing this live stream and as usual, ensure that the quality is top-notch. You can watch the live action at home for the entire duration of the event.
Aside from live streaming CS:GO, we will also be demonstrating XSplit Gamecaster V2 on all of the MSI gaming machines as well as  showcase the newest features that gamers and livestreamers alike can use to their advantage. Just like any expos that we've attended, expect fun activities and giveaways not just from us but also from MSI. This goes not just to those who will be at the event but also to those following us social media for updates. 🙂
See you there!
Melvin Dichoso
A basketball junkie, blogger, headphone enthusiast, aspiring chef, and traveler wannabe. Does social media and various other stuff for XSplit.
More from this Author