XSplit will be at Insomnia 56
Peter Slater
February 29, 2016
1 min read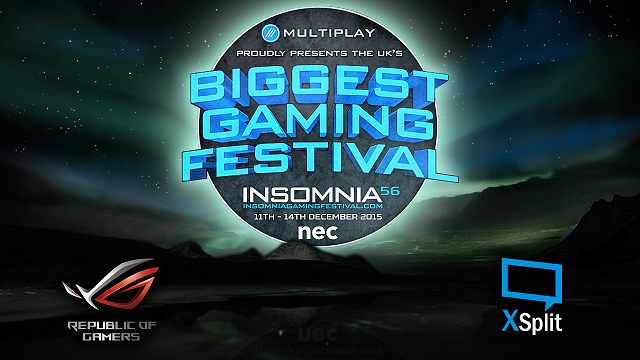 Yes, XSplit will be at Insomnia 56 from December 11th – 13th at Birmingham NEC UK.
Our very own Community Manager Sllayt3r will be attending and exhibiting with ASUS UK on their booth managing the stream with LtZonda, GiveMeANameX, CandyExplosives, PhaseGames, NaySayerz, Chickendindins, GeekByte, GameBoyLuke and ThePrenti from the XSplit stream team plus many more. We will be streaming direct from the booth and also hosting activities such as gameplay streams, fun side challenges and other associated gaming style fun.
Besides all of that awesome stuff, XSplit Elite's very own Lt Zonda will be hosting his own show called "The Zonda Show" which promises to be a ton of fun for both streamers and viewers alike. The show will see Zonda turn presenter to host his own talk show filled with interviews of other streamers, streaming/gaming talks and fun challenges, so don't miss it.
Sllayt3r will have on hand some XSplit licenses, XSplit Lanyards and a select number of limited edition T-shirts that he will be giving away during the event.
If you're going to be attending Insomnia 56 too, make sure to let us know by Tweeting us, or writing on our Facebook page and you could even win some awesome swag.
If you're not attending insomnia 56 you can always watch the streams LIVE from the ASUS UK Twitch channel: https://www.twitch.tv/asusgaminguk
Peter Slater
UK Community Manager XSplit - contact him at @sllayt3r if you want to talk about XSplit Elite or gaming in general!
More from this Author