XSplit VCam 2.3 brings AMD GPU Support and more!
Akemi Trinindad
June 03, 2021
1 min read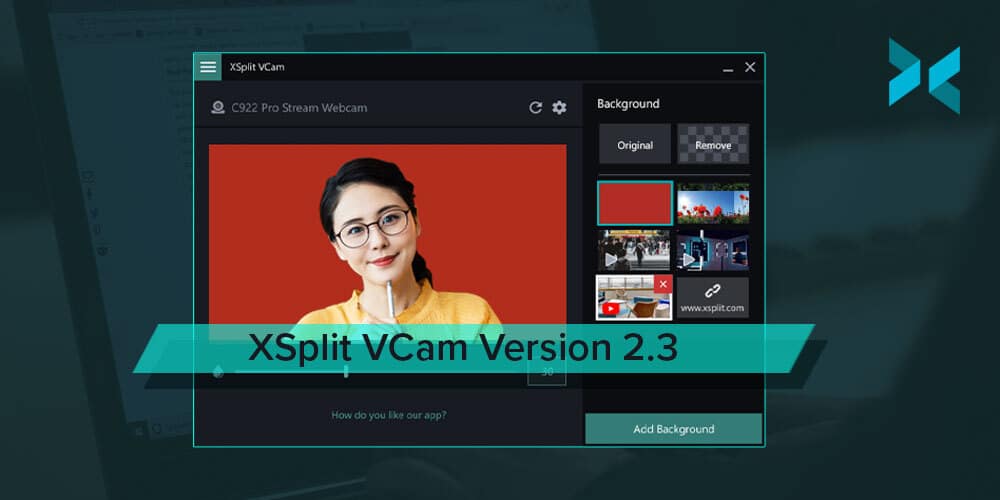 XSplit VCam 2.3 is here and with it a whole host of improvements and bug fixes, but the headline feature of this update is our vastly improved AMD GPU support for hardware acceleration! Use your AMD GPU, like you can with an NVIDIA GPU, to power the background blurring, removal, and replacement in VCam taking that processing away from your CPU and improving performance!
What makes 2.3 better?
Better AMD GPU Support and improved hardware acceleration! XSplit VCam now uses DirectML for NVIDIA and AMD GPUs. This implementation solves issues with 3 series Nvidia GPUs and works significantly more efficiently on AMD compared to previous versions of VCam.
For content creators with AMD GPUs, this will mean running a game at the same time you're using XSplit VCam will be a much smoother experience.
Startup optimizations including reduced loading time and the calibration process when you first launch the app proceeds to the main screen automatically.
Bug fixes!
Like we have with previous updates, we've listened to your comments and feedback to improve our app and resolve the most common issues from the previous version:
No more app freezing when switching backgrounds
Resetting of camera/capture card color properties
The "enable HD option" not working on local user accounts with an ampersand in the name, and much more.
If you have any questions or feedback, let us know in the comments section below. You can also chat with us through our social channels @xsplit and our Discord community. Finally, if you have any features you would like to request, you can submit them through the VCam request page here!
Akemi Trinindad
Social Media Specialist. She's mainly on Instagram @akemi_loves - loves food, travel and sometimes photography.
More from this Author