XSplit Supports #8BitSalute Event
Melvin Dichoso
June 26, 2015
2 mins read
XSplit supports the upcoming 8-Bit Salute event this May 16-17 2015.
We've always wanted to become a part of 8-Bit Salute not only because we have users that have been participating ever since the beginning but also because we like Operation Supply Drop's mission, vision and purpose for holding this annual charity event.
When we heard that they were more than happy to accommodate our involvement, we did not hesitate to jump in and grab the opportunity.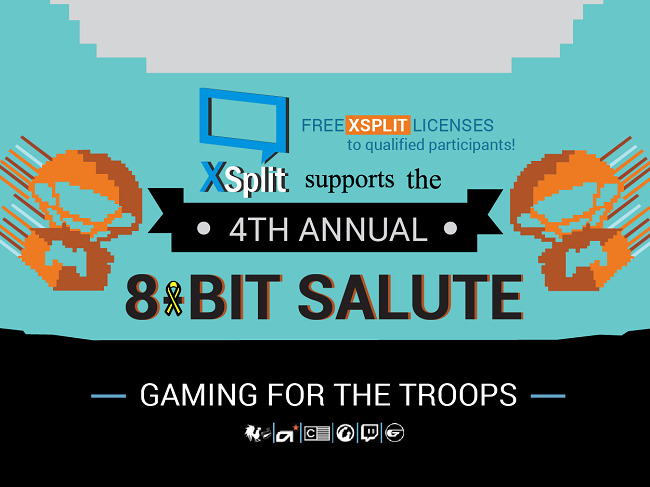 In case you're not too familiar, Operation Supply Drop (or OSD in short) holds multiple annual charity events in an effort to provide communication to soldiers through video games and digital entertainment. #8BitSalute is one of their bigger charity events and it will be held this coming May 16-17 2015.
How is XSplit supporting 8-Bit Salute?
We are supporting this event in a couple of ways. The first is through providing XSplit Premium licenses for free. Anyone who registers as 'Elite' for the event and raises $50 in donations will receive a 3-month XSplit Premium license. Aside from that you also get to be eligible for other prizes including one of 2 personal supply drops.
The second way we're showing support is through participating in the event ourselves. We have signed up as a participant and you can find our team here. Yes! We will be doing the 24-hour livestream ourselves and we're encouraging everyone to watch us at Twitch.tv/xsplit. We're happy that our community managers are more than willing to take lead in this regard.
How can I get involved?
The easiest way is to signup and participate in the event. If you are a gamer, and you love to live stream, then there's simply no reason not to join this endeavor.
If you're already participating or even organizing an event for #8BitSalute, then we want to hear more about it! Send us a tweet via @xsplit and we'll be very happy to have a look and promote the event that you are organizing. 🙂
Finally if you are part of our stream teams through Twitch and Hitbox then we are counting on your involvement for this. You're not only supporting us in our participation but you're supporting the actual event for good cause.
What are you waiting for? Signup now and get yourself ready! 🙂
Melvin Dichoso
A basketball junkie, blogger, headphone enthusiast, aspiring chef, and traveler wannabe. Does social media and various other stuff for XSplit.
More from this Author