XSplit is Back for Extra Life 2015
Melvin Dichoso
February 29, 2016
1 min read
It's hard to not think of Extra Life when you get into the last quarter of the year and just like before, we're not just thinking of them but we're looking for ways on how we can support them better than we did the previous years. We think we did that!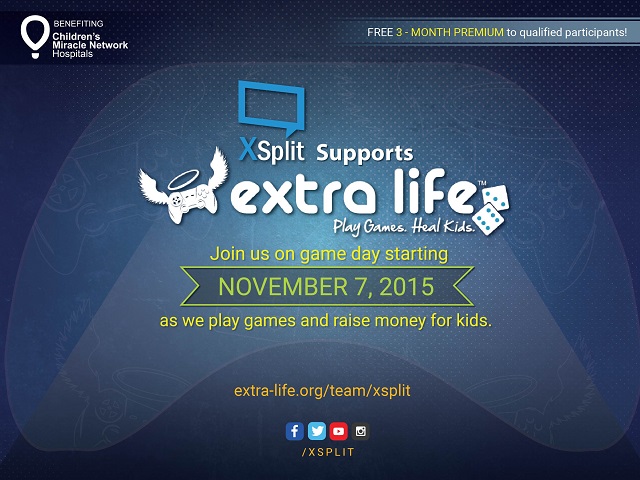 Lower Barrier for a FREE XSplit Premium
In the past 3 years, we've supported Extra Life by giving thousands of 3-month Premium license codes that a participant can get for free if they get $25 in sponsorship or donations. That has worked quite well for both us and Extra Life however we know we're just scratching the surface.
For this year's festivities, we have lowered the requirement to just $10! Yes it's not a typo. Raise $10 in donations and get a 3-month XSplit Premium license for FREE! We fully expect to more than double the normal of participants who will be able to take advantage of this offer!
Join our Extra Life Team
Aside from supporting the event through the free licenses, we are also participating by playing games and raising money ourselves as well as featuring participants that are part our our Extra Life Team. So if you're looking to partake in this charity endeavor and don't have a team yet, we highly encourage you to join our team.
Melvin Dichoso
A basketball junkie, blogger, headphone enthusiast, aspiring chef, and traveler wannabe. Does social media and various other stuff for XSplit.
More from this Author