XSplit Broadcaster 4.0 is Here
Chris Slight
September 30, 2020
2 mins read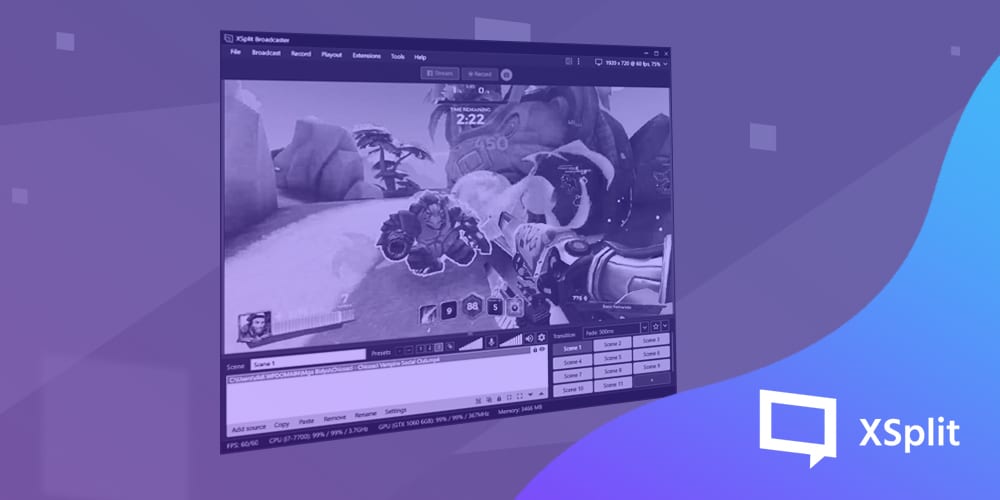 XSplit Broadcaster 4.0 is here and we couldn't be more excited to share this big update with you! We have been focusing on creating the best live streaming software available for the last ten years and we feel with this update we're a step closer to making streaming more powerful, more accessible, and more sophisticated than ever before!
What's new?
Updated UI – We're on the road to update the user interface you interact with on a daily basis. We've included an easy to access stream and record button and provided the ability to resize the scenes and sources list.
Audio Effects (DSP) – Our ongoing effort to improve audio in XSplit Broadcaster introduces compression, EQ effects, and more with a brand new UI to manage them. Find out more info here!
Multiple Recording Profiles – Set up multiple recording profiles to record multiple scenes or different encoding settings. This can make recording raw gameplay while streaming a full broadcast, for example, easy! Find out more here!
Improved Extensions – With several extensions such as macros becoming staples of many broadcasts, it was a pain to remember to launch them every time you opened XSplit Broadcaster. Now, extensions will restore to their last state before closing Broadcaster and can also run in the background.  
Playout Improvements –  Specify which scenes you want to playout to NDI or Decklink devices with additional transparency performance options for NDI.
Stream Only in Audio Mixer – You can now monitor and adjust the levels of any source outputting to Stream Only. 
Macros Extension – Import and export macros! Added triggers for outputs, audio sensitivity, and leaving scenes. New actions for cue points, recordings, and more. Additional improvements have been made for custom actions that allow you to make them user friendly with variables.
Per Scene Lighting – Using Elgato Keylights with XSplit Broadcaster 4.0 can level up your stream as the lighting in the room changes as you change your scene! Find out more here!
There's a whole lot more than just that! If you love seeing the nitty-gritty stuff, here's the full release notes for version 4.0 that also contains all the bug fixes and minor improvements.
This is an ongoing process for us and we're nowhere near done with regular updates from our development team. Combined with our 24/7 customer support, XSplit Broadcaster 4.0 is an ever-evolving package for content creators. Have something you'd like to see in future updates? Suggest it over on our feature upvote page, we love to hear from our community!
We hope you enjoy XSplit Broadcaster 4.0! Head over to xsplit.com/broadcaster and download the update today!  
Chris Slight
Chris is the Communications & Content Editor here at XSplit. You may find him voicing tutorials, on stage at events around the world, or right here on xsplit.com. Find him at chrisslight.net
More from this Author