XSplit back in Las Vegas for EVO 2019
Akemi Trinindad
July 30, 2019
2 mins read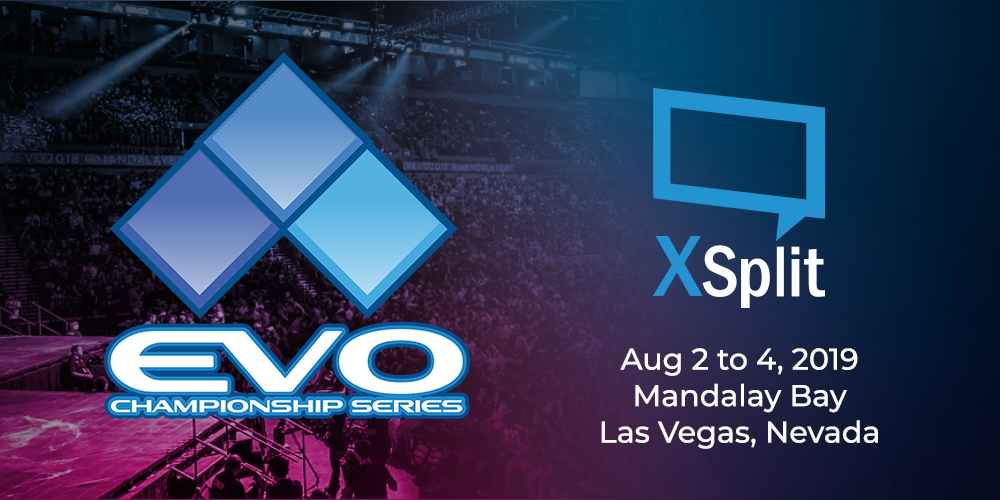 XSplit is back at EVO 2019
The XSplit stream production team is heading back to Las Vegas this year for another round of EVO madness. EVO or Evolution Championship Series – the most prestigious fighting game tournaments in the northern hemisphere (if not, the world)!
Our team will be at the Mandalay Bay from August 2 to 4 for the largest and longest-running fighting game tournament that brings together only the best and finest gamers from around the world. Expect a competitive yet fun atmosphere where fans gather and skilled gamers compete to become the best of the best – champions in their respective games.
In this years' line up, the final numbers are up! Over 14,000 participants from all over will compete for the honor of being the best in their beloved games, not limited to – Street Fighter V: Arcade Edition, Tekken 7, Super Smash Bros. Ultimate, Mortal Kombat 11, Soul Calibur VI, UNIST, Dragon Ball Fighter Z, BlazBlue: Cross Tag Battle and Samurai Shodown.
There is no doubt that this year's competition is going to be really intense! We'll be sure to have our socials updated for the latest activities and news on the event day itself, so make sure to follow our socials for fresh news from our event correspondents – AJ and Kevin Kim.
Evolution of streaming in the FGC
Since 2011, XSplit has been used for the Evolution Championship Series live stream broadcast. The event was broadcasted to Ustream back in the day reaching over 2 million unique viewers consuming over 1.9 million hours of video content in total. This live stream was produced as collaborative efforts of fighting game sites iPlayWinner, Team Sp00ky, Offcast, and FinestKO.
The growth of the fighting game communities and streaming has expanded through the years, and XSplit has had the honor to be part of and is always in full support of the FGC since the early days. For nearly 10-years, we've seen the FGC scene and live streaming expand to greater heights – making our love for fighting games more accessible and appreciated by many audiences across the globe.
If you're attending EVO, check out the Evolution of streaming in the FGC panel on Friday (August 2) at 2PM – Chris Slight, Maximilian Dood, Spooky and Gooteck will be onsite to discuss more on how live streaming has evolved within the FGC, from individual creators sharing their strategies to tournaments like Evo being broadcast to millions of viewers around the world.
Akemi Trinindad
Social Media Specialist. She's mainly on Instagram @akemi_loves - loves food, travel and sometimes photography.
More from this Author