We've acquired Challonge! and Player.me
The #XSplit family just got bigger. 
Today is a momentous day for both me and the entire XSplit Family as I am incredibly excited to announce that both Challonge! and Player.me will be joining forces with the XSplit team here at SplitmediaLabs.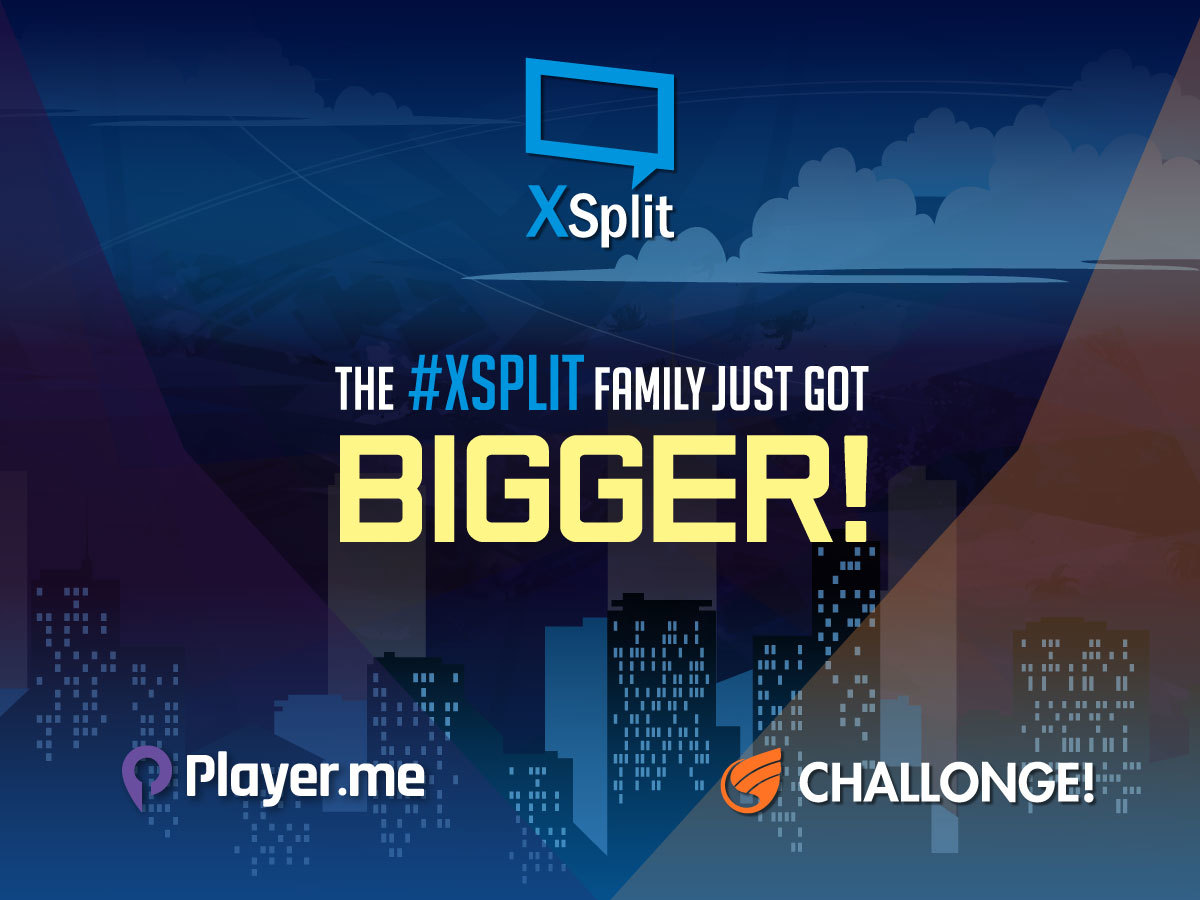 When we launched XSplit almost six years ago, we set out on a mission to make live streaming and recording simple. In that time, both broadcasting and gaming changed dramatically, with the advent of new live streaming services, the birth of the Twitch Streamer, and the explosion of eSports capturing the imagination of players across the globe.
Fast forward to 2016 and the world's top gaming personalities, eSports teams, game developers, publishers and millions of people worldwide are using XSplit to create innovative, hilarious, entertaining and meaningful content that has impacted audiences of all ages. Live streaming has helped bring people together from all walks of life, and with hundreds of thousands of new users joining us every month, that number is set to grow higher still.
Yet this is still only the beginning. Our aspirations for the future are much bigger, as we envision a world where players can seamlessly connect to one another in a dedicated space, share and create content, compete with one another and grow their own communities. To turn this dream into a reality though, we knew we needed the right expertise, technology and people to make this happen.
This is where social discovery platform, Player.me, and tournament management service, Challonge come in. Between these two services we see the potential to create a platform that connects the entire gaming community and serves the needs of all players in their daily lives.
We're going to shake things up a bit over the coming months by combining the Player.me community and discovery engine with Challonge's tournament bracket technology to create a future where players, content creators, eSports entrepreneurs and event organizers, can connect with one another seamlessly and beautifully.
Both Sean Fee (CEO of Player.me) and David Cornelius (CEO of Challonge), two top entrepreneurs and leaders in their field share this vision to build a connected experience, and we cannot wait to show you what's coming in the near future. On a final note, we would like to thank our community, our partners and of course you – our users for being with us on this adventure.
– Henrik Levring, CEO of SplitmediaLabs
To see a glimpse of the future, check out Player.me on web and visit challonge.com