Tipping is now in XSplit Gamecaster V4
Melvin Dichoso
January 22, 2020
4 mins read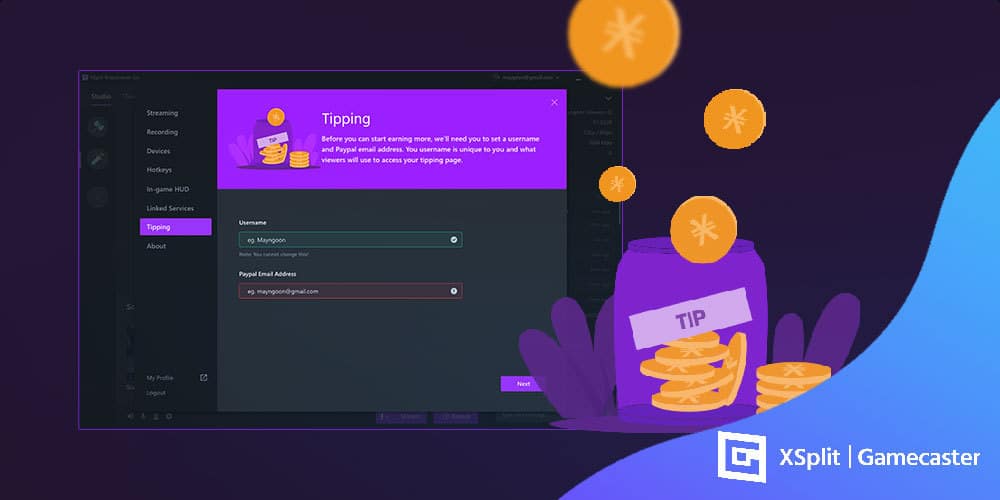 Tipping has arrived! Start getting tips from your viewers through this new feature in XSplit Gamecaster V4!
Tipping has been around for quite some time and is actually a very popular way to make money from your stream. But it hasn't been always straightforward, as you would usually have to use third-party services and ultimately connect them all together. Having said that, we know it's been popular so we're not really trying to convince you to make any change if you're already used to that set up. What we want to do is provide an alternative that is less complex to enable and is readily available to everyone.
Setting up tipping on XSplit
You can set everything up in less than 5 clicks. To enable, login to XSplit Gamecaster V4, click the settings cogwheel button at the bottom right, go to Tipping, input your details, and you're all set!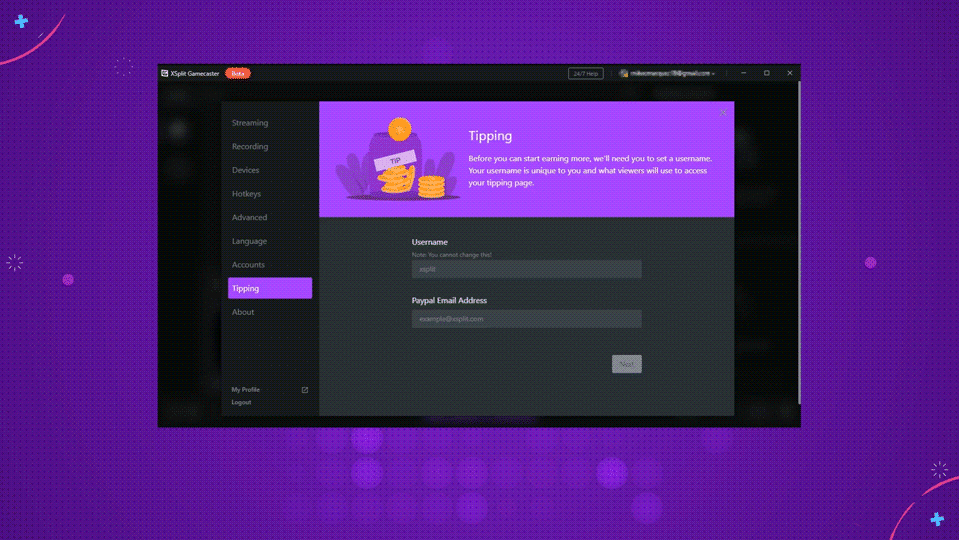 That's pretty much it! You can now promote your tipping page on your stream and your social media channels!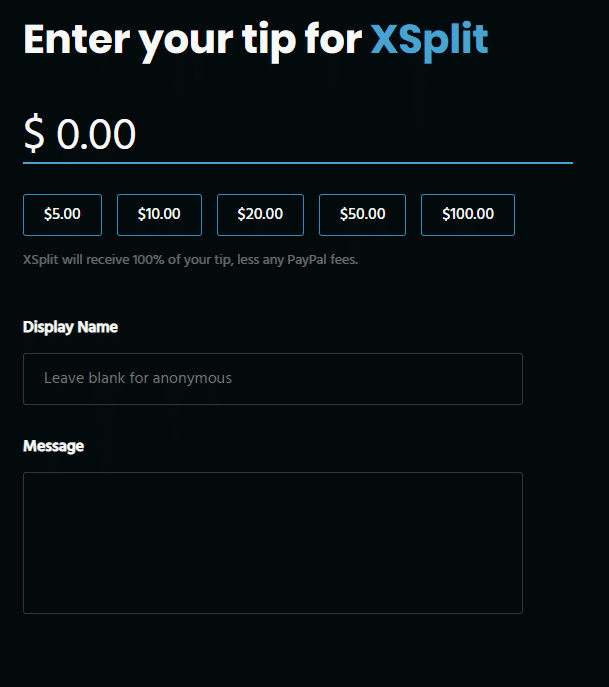 All is good, right? We can just leave things there and have you figure out how to actually start getting tips and donations from your viewers? Of course not! 
Tips for getting tips (or donations)
Getting tips from your viewers is just one of the many ways you can earn money from Twitch or really any other streaming platforms. Having an option to do it directly from XSplit is nice and all but it's not even half of the work needing to be done. Here are some of the things that you should both look into and work hard to maximize your chances of getting tips from your audience. 
Make it visible
Simple, right? You'd be surprised how many people don't make it available and easy enough for their audiences to give them money. One area you can readily add it in your streaming panel.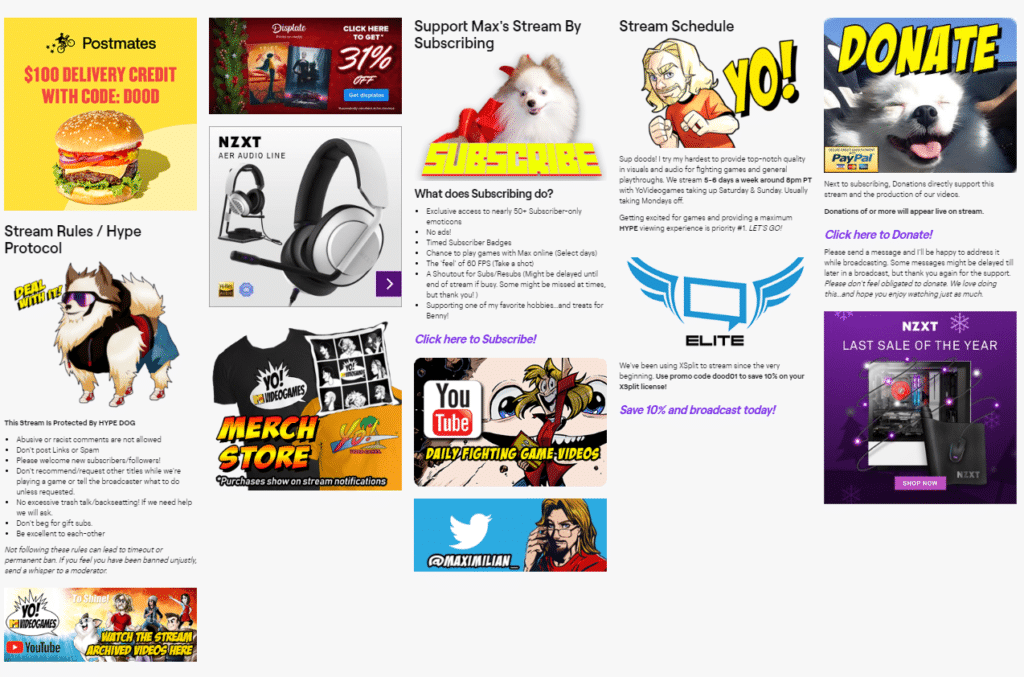 It's just natural for new viewers to get curious about you if they happen to like your content, and there's nothing closer to look at than your stream panels located at the bottom part of your stream. It doesn't mean you'll get tips guaranteed (duh!) but you're making it easy for them to do it whenever they want. 
Stream panel or channel profile is just one of the many places you can show it. You can also link to it in your social media channels as mentioned above and more. 
Remember, the key is not spamming it all over the place. It's about making the option available. It's not just about you getting a tip, it's also about making it easy for them to do it whenever they feel the need to do it.
Incentivize and reward donors
While viewers donate to show support for their favorite creators, they also do it because they appreciate being mentioned or credited in the stream. Incentivizing your donors is important as this achieves two things namely: 1). It rewards your audience for tipping but 2). It also reminds your other viewers that they can also get the same reward by doing the same. 
A simple shout-out is cool but you can take it up a notch by doing the following: 
Use custom alerts to showcase donors/tippers on your stream
Create a stream panel that lists your top donors for a specific period of time
Hold a mini raffle that aims to reward those who have given you a donation
Create a goal for you and your viewers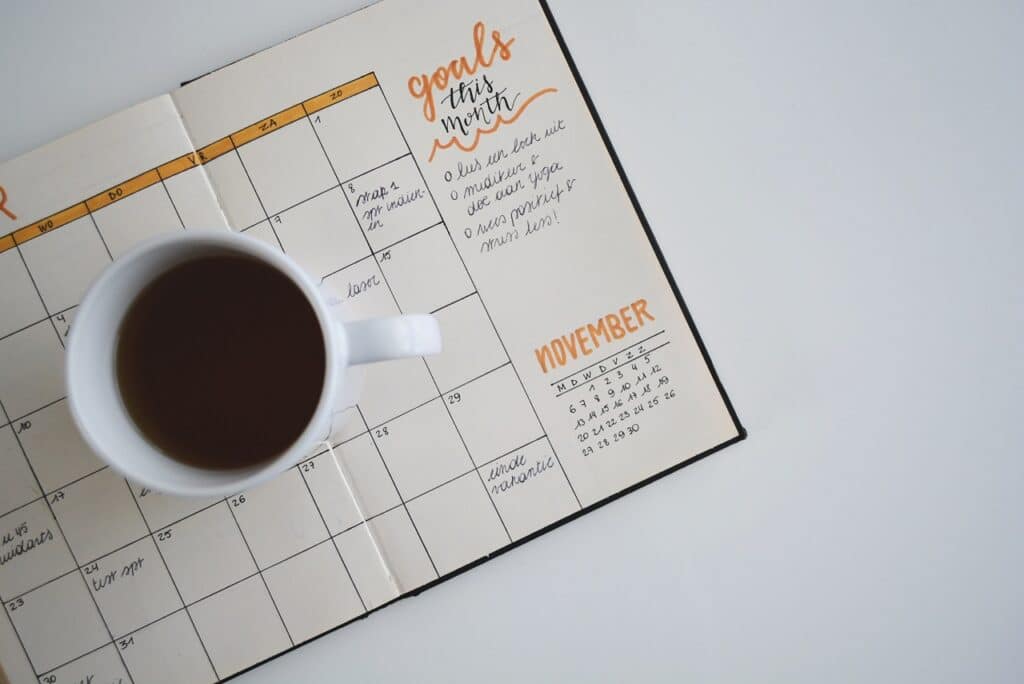 Everyone loves goals and this is one of the more interactive ways to engage with your audience. It makes them feel they're a big part of what you're trying to accomplish. And of course, they are more likely to tip or donate since they know where their money is going to.
The goal doesn't have to be too ambitious, to begin with. It could be you buying new equipment to upgrade your gear or getting the latest AAA game available so you can share your content with them further. If you think about it, almost all of the goals are about allowing yourself to provide an even better experience to your viewers. So it's a win-win situation for all
Finally, there are services such as Player.me and StreamLabs that allow you to visualize your progress and share them with your viewers. Something as simple as a progress bar, alongside incentivizing them as we mentioned above can motivate your audience to help you reach your goal.
Ask your viewers what they want
As you build your viewership up, you'll start getting more interactions with your audience and at times, they'll make suggestions on what they want you to do or what they want to see next. You can take this opportunity to poll them and get their input on various things. If you're playing a specific game, it can be about the approach you need to take to move forward, or it can be what in-game item to buy. While this isn't directly about getting donations, it helps in creating that trust that is important long-term.
You can even combine this with whatever goal it is you're working toward. Say you're goal is to get this much money in order to buy a game, you can very simply ask your viewers beforehand what's the upcoming game they want you to see playing and work from there. Sure you won't be able to please everyone, but you still get to keep the majority happy.
Aim for consistency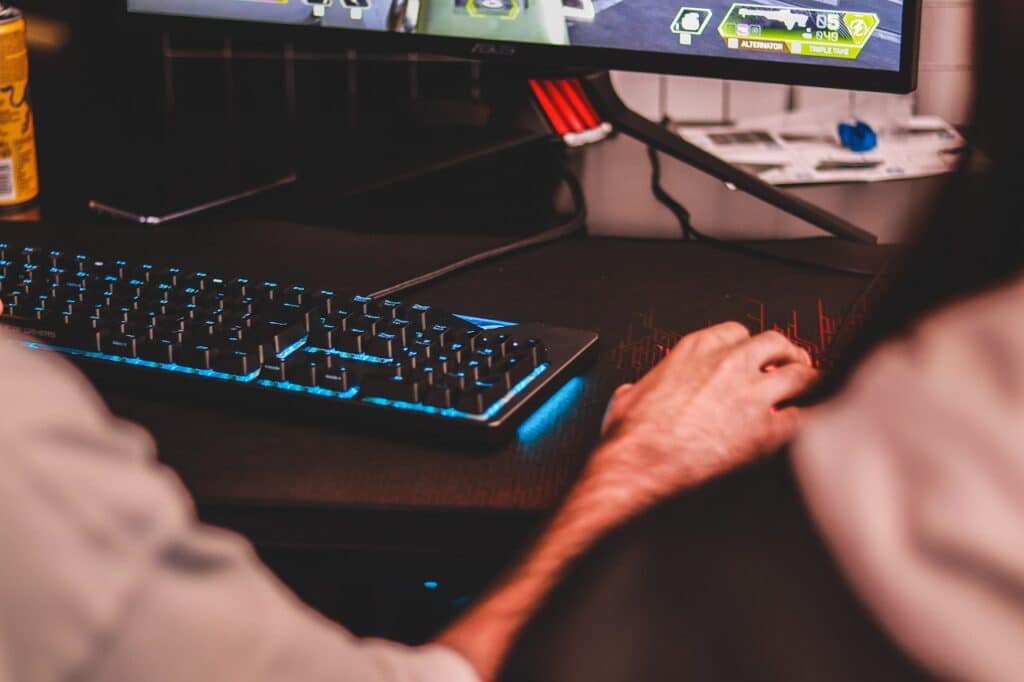 Being consistent in many areas can help bring loyal viewers which is where most of the donations will come from. While it may happen sometimes, people don't just tip or donate after watching a certain stream or content for the first time. You're probably tired of hearing this cliche from your parents but trust is earned over time and the way you get that is by providing exceptional content with great value to your viewers on a consistent basis. That's how you get them to watch you for your second, third and fourth stream. That's how you get them to follow your channel and eventually support your channel more by donating, giving a tip and supporting whatever endeavors you have. 
Does it mean you have to be spotless in everything that you do? No. It just means giving a consistent effort to what you're doing enables you to connect more with your audience which is how you essentially build a loyal viewership for your channel. 
Final thoughts
Getting tips from your stream is just one of the many benefits that you can enjoy if you build and cultivate your viewership the right way. At the end of the day, it all goes back to you providing great entertainment value. Having an audience that likes your content extremely well gives a lot in return and getting donations is just one of them. We hope those five things we listed above can help you and your stream.
Don't forget to try out the new tipping feature in XSplit Gamecaster V4 and share with us any feedback that you have. We're looking forward to those as we want to improve and expand this feature further down the line. 

Melvin Dichoso
A basketball junkie, blogger, headphone enthusiast, aspiring chef, and traveler wannabe. Does social media and various other stuff for XSplit.
More from this Author