New XSplit 2.9 Update with Beam FTL Support
Melvin Dichoso
January 17, 2017
2 mins read
As of January 30, 2017 11:00 AM EST: We have updated the DOWNLOAD PAGE with an updated version of XSplit Broadcaster 2.9 which now supports Beam FTL.
The following has been addressed since the initial 2.9 beta with FTL support that was released last January 17:
Resolved issues with AV Sync
Resolved a leak in the Beam plugin (ping threads not terminated)
Added parameter to NVENC to avoid B-frames (B-frames are currently not supported)
Added parameter to Quick Sync to avoid B-frames
Added bitrate and frame drop status for FTL
Resolved issues wherein automatic ingest selection did not work well outside of US (still improving the automatic selection including showing the resolved ingest)
We have published a maintenance update of XSplit Broadcaster v2.9 with support for Beam's new low latency protocol called FTL. An update to XSplit Gamecaster is also planned to follow in the near future.
This release contains new core components, and while we believe it to be stable, it is still deemed a beta release undergoing testing. If you install this release, note that it will automatically be updated when the final 2.9 update with FTL support is released.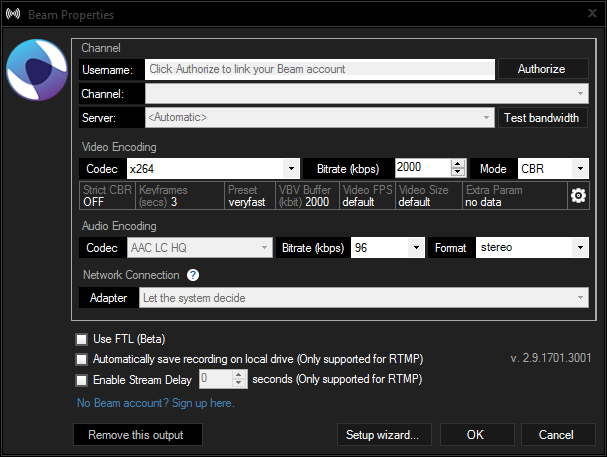 The FTL support is baked into the original broadcast plugin for Beam as a checkbox. If selecting FTL please note the following caveats:
Missing features
Stream recording
The option to save your live stream locally is disabled. You will still be able to record locally while streaming, but you will need to manually start a local recording which requires an extra encode.
Adaptive bitrate
The experimental adaptive bitrate settings still show, but the function is not yet implemented for FTL.
Encoders
When selecting x264 encoder, we add additional encoder settings to optimize for low latency. For other encoders, we have not yet performed this optimization so selecting other encoders than x264 may result in added latency of about 0.5 to 1 second.
Low latency is great but it does come at the expense of video compression. So if you want to keep the low latency and get slightly better compression, but more CPU usage, then change your x264 preset from "veryfast" to "faster" , "fast" or "medium" if you have a monster rig.
We expect to make some updates to the Beam broadcast plugin over the coming days, so stay tuned to this blog post for more information.
NOTE:  Due to the changes to Beam's infrastructure, RTMP streams (the original protocol used in XSplit) will now get upwards of 15 seconds delay when streaming to Beam. 
Melvin Dichoso
A basketball junkie, blogger, headphone enthusiast, aspiring chef, and traveler wannabe. Does social media and various other stuff for XSplit.
More from this Author