Stack-up Event & Help through Gaming
We've supported countless charity organizations and events in the past and we know it's something that we want to continue doing going forward. That's why when we were given an opportunity to take part of Stack-up, a video game military charity organization, we knew we would participate in any way that we can.
What is Stack-up?
If you're not familiar with Stack-up, it is a charity focused on helping troops and veterans through the power of gaming.  Gamers play games while live streaming with the intention of raising money and creating awareness for their event and the charity as a whole. The money raised is then used to buy what they call as 'supply crates' which basically is a package containing video games and all those nerdy goodness! These crates then gets sent to veterans deployed to combat zones, humanitarian missions, recovering in military hospitals, etc.
XSplit decided to take part so we created our own team at xspl.it/stackup and have planned an event from March 25 – April 1 2016. During this period, we will be live streaming ourselves and aim to raise as much money as possible while creating more awareness in this great endeavor.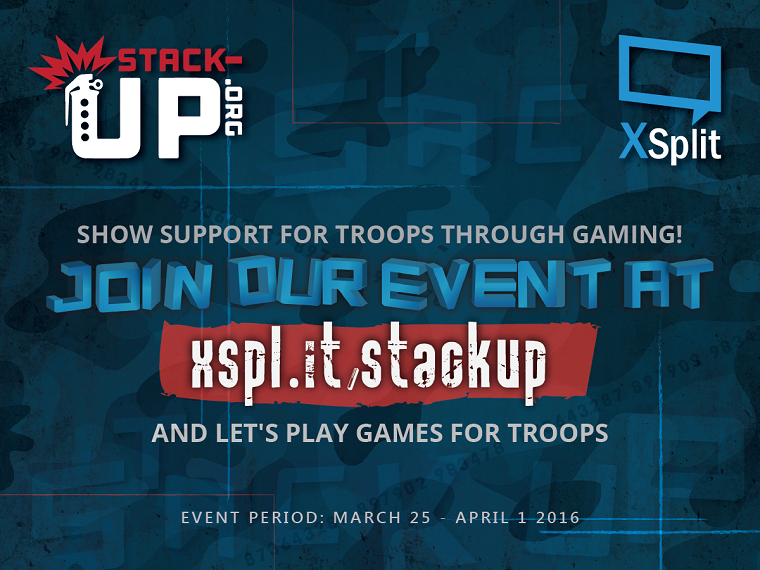 We're not looking forward on doing this alone as we want to also have YOU as part of our team and be able to also join us for our event. Aside from the privilege of joining us do what we all love doing and for a great cause, we thought about spicing things up a little bit so we're also including the following incentives for those who will join us for this event.
We will be promoting your live stream on our social media channels when you go live during the event period.. This will be done throughout the duration of the event week.
You will also be given a FREE Premium license that you can use for the duration of the event. This means you'll be able to maximize some additional features for the benefit of your live stream! If you already have a license, then we will give you additional time to cover for the event period.
If you are one of our top fundraisers, you will be getting a little something extra from us as a way of saying thank you for your hard work. We can't tell you what it is right now but we're sure you will like it. 😉
How to Take Part of our Event
If you haven't signed up for Stack-up.org yet, then we do recommend that you do it first by signing up www.stack-up.org. Once you have an account already, you can join our team here via clicking the 'Join Team' button. After that we will be contacting you to get more details about your live stream including your schedule so we can plan the promotion ahead of time as well as give you your free XSplit Premium license
That's it! We hope you will join us for this great cause! Let's all play games and show support for our beloved troops!