Improving your XSplit Experience with NewTek NDI
Luis Vigil
August 15, 2016
2 mins read
The latest update to XSplit Broadcaster and XSplit Gamecaster 2.8 includes some important improvements for our NewTek NDI integration. We now support NDI inputs and outputs with audio and alpha channel for video. We've also made a variety of stability improvements for NDI sources.
What is NewTek NDI?
NDI is NewTek's new protocol that can allow software and hardware to interact with each other via LAN.
Why would I use NewTek NDI?
While NewTek NDI may seem like a complex feature, it can actually be used in a variety of situations by both new and experienced broadcasters. This article will outline some use cases for NDI, both simple and complex.
Using NewTek NDI to create Multiplayer Gameplay Content
One of the common requests we've received in the past is an easy way to allow players to display multiplayer gaming sessions with their friends. As long as you have a router with open ethernet ports, this can be easily achieved with NewTek NDI!
Say you have a friend over to play Overwatch with, and you want to share both your screens on your stream. If you are connected to the same LAN network, have your friend open up XSplit Gamecaster and go to the settings tab. In the settings tab, check the "Enable NewTek NDI Output" box.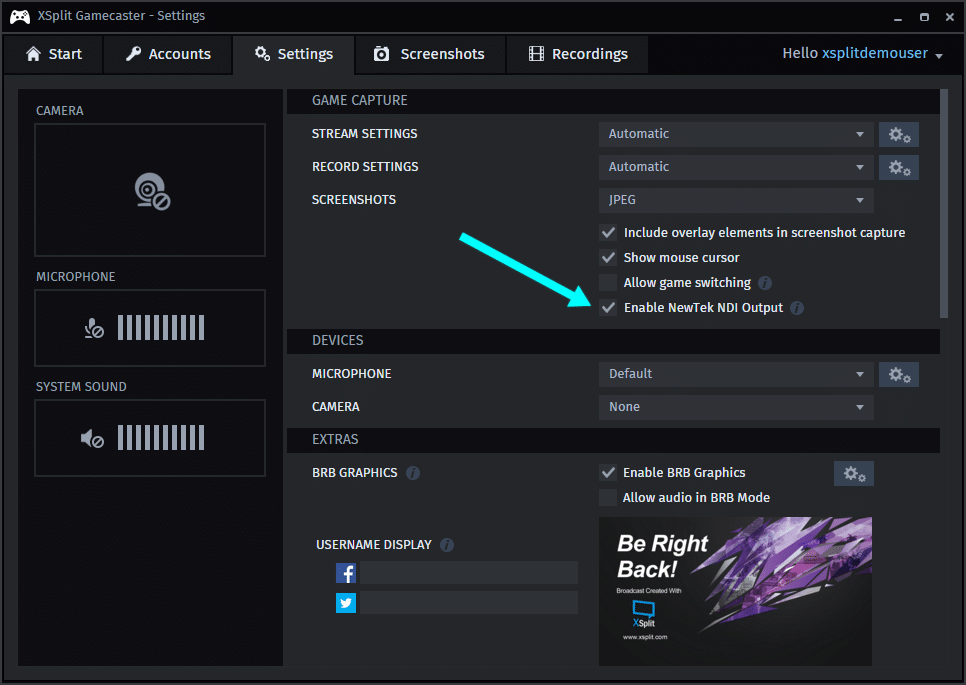 On another PC, launch XSplit Broadcaster and go to Sources > Other > NewTek NDI Stream and select the broadcast from your friend's PC.


Now arrange your scene as you like and create multiplayer content with your friends!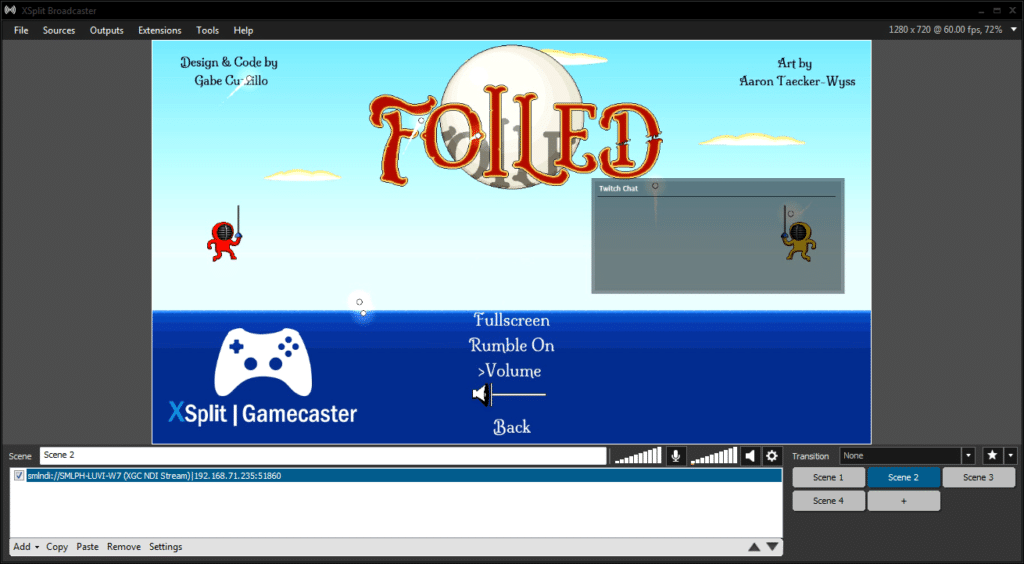 Using NewTek NDI to connect XSplit Broadcaster with NewBlueFX Titler Live Broadcast
One of the biggest benefits to NewTek NDI is that it allows XSplit Broadcaster users to gain access to a wide array of high end production software. One of great piece of software is NewBlueFX's Titler Live Broadcast. Titler Live Broadcast allows you to easily create dynamic 3D graphics similar to what you see during sports broadcasts with scoreboards and lower thirds. Using NewTek NDI, you can easy bring your Titler Live Broadcast graphics and animations in your XSplit Broadcaster scene.
First, make sure to enable the NewTek NDI output in Titler Live Broadcast. Go to Settings -> Device and select the NDI option.

Now add the NDI output from Titler Live Broadcast to XSplit Broadcaster. Go to Sources > Other > NewTek NDI stream and select the machine that is running Titler Live Broadcast.


Once you have positioned Titler Live Broadcast's NDI output on your scene, anything you display in Titler Live Broadcast will appear in XSplit Broadcaster.

And that's how easy it is to use different applications with XSplit Broadcaster via NDI. There are countless of other ways you can use NewTek NDI with XSplit Broadcaster. Make sure to follow XSplit's social media for more NewTek NDI guides and you can read more about NewTek NDI here.
Luis Vigil
Louis Vigil has been working on live stream productions for a variety of gaming events for over 10 years! When not broadcasting an event somewhere in the world, Louis also produces educational content for people looking to get into broadcasting on his Offcast YouTube channel.
More from this Author