How to Stream Fortnite Like a Pro
Kenji Ratier
April 23, 2019
3 mins read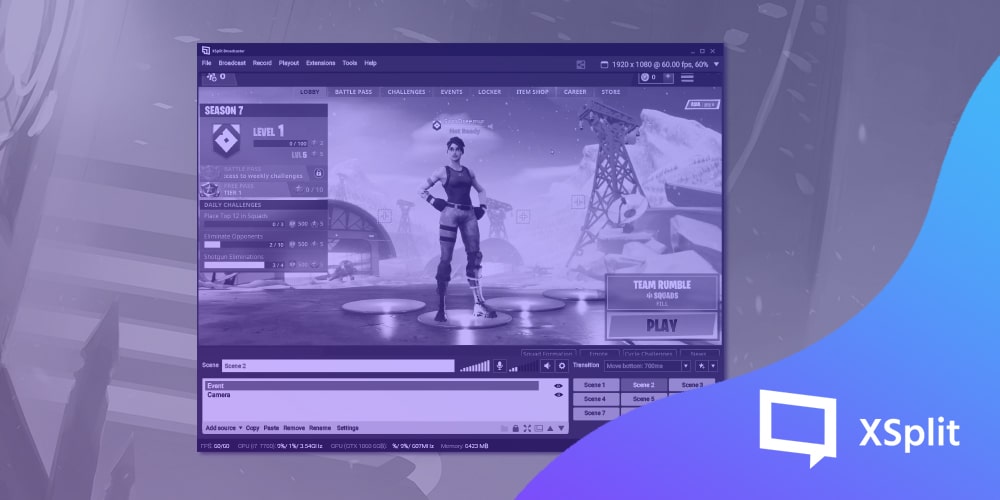 Do you want to have a stream like Myth, Ninja or Pokimane, but just don't have thousands to sink into a streaming setup? Never fear! Your friends at XSplit are here to show you how to put together an amazing looking stream on a budget!
First let's get some pesky prerequisites out of the way. You will need a PC with at least a quad core i7 processor or a NVIDIA 700 series or equivalent GPU. You will also need at least 10mbps upload if you wish to stream in HD. You'll also need a microphone and a webcam. If you're just starting out, use whatever is available such as built in webcams and microphones in gaming headsets and webcams.
Next let's look at in-game settings for Fortnite. While the obvious choice would be to go for the highest graphic settings, you actually want settings that will open up CPU or GPU resources to encode your stream. Many pros have their settings the lowest level except for view distance and textures. Make sure the game is set to fullscreen and keep the resolution the same as your monitor's recommend resolution. Be sure to also turn on the streamer mode setting to prevent stream sniping. Enabling push to talk is also useful if you don't want your squad to hear you talking to your viewers.
Now let's set up your stream. You can use XSplit Broadcaster to stream in HD for free, just click on the link in the description to download! In XSplit, set your resolution and frame rate to 720p and 30fps, as this will give you a good baseline stream. You can capture Fortnite in XSplit by using the auto detect source. If you have a webcam connected you can add it as a video device. You can access the audio settings here to make sure you've select the correct microphone device.
In the broadcast menu, add the output for whichever streaming platform you use and login to your account. You may be prompted to run a wizard, but skip this for now. The first setting is codec, while x264 is recommended to get the best streaming quality, if you are using an older or limited CPU it is recommended to use GPU hardware codecs. AMD and NVIDIA have their respective hardware codecs VCE and NVENC.
The next setting is bitrate and is probably the most important. The higher you can set the bitrate, the better quality your video and audio will be. Your bitrate is only limited by your upload bandwidth and by the platform you are broadcasting to, so set it as high as possible. Make sure to set a stream delay if you'd like to limit stream sniping, especially if you're playing in an online tournament.
Not that you've configured your stream setting, start your first broadcast and play a game of Fortnite. Take note of your CPU and GPU usage in XSplit. If your usage is low you can start raising your resolution and frame rate. In time you'll find the sweet spot that gives you the highest quality stream, without sacrificing game performance.
Next you'll want to add some overlays and alerts to your stream. Our good friends at Player.me offer free overlays and have designed a variety of overlays specifically for Fortnite. Adding Player.me overlays to XSplit is simple, just copy and paste the overlay URL into XSplit. If you enable the XSplit integration in Player.me, your gamesource and webcam will automatically be positioned.
Now you should have a pretty sleek looking stream and well be equipped to start your journey to become a professional Fortnite broadcaster. If you're just starting out it is important create and keep a streaming schedule. You can use XSplit's Express Video editor to make clips to promote your stream on social media. Finally it is recommended to use one of the many free chat bots to help moderate your chat.
We'll have a video coming in the near future with even more tips to improve your Fortnite streams! Please leave any questions in the comments and we'll answer ASAP! Be sure to follow us on social media for advice and tips!
Kenji Ratier
1v1 Shipment turned me into a man, Rust is where I became a legend. Oh and I do marketing for XSplit.
More from this Author