How to Improve your YouTube Search Ranking
Akemi Trinindad
September 17, 2019
4 mins read
Do you create content on YouTube and you want to improve your searchability ranking? You know, we can't all keep track of all the algorithm changes when it happens – it's totally out of our control, what we can do as creators is to make sure that our content can easily be searched and optimized for search engine results.
There are many factors that can affect your searchability ranking in this platform. With great content comes great responsibility, in making sure that you have enough information attached to the video that you're uploading to the internets.
As a content creator, I also struggle with SEO aka "search engine optimization". But, what does SEO have to do with YouTube? Whether if you're creating content for fun or for educational purposes – getting more views and people to see it is our main goal. How do you get your content to more people without paying money to boost it? Simple, optimizing it for searchability. Your content has to possess certain words within the title, description and… and…
No need to feel overwhelmed, here are some things that we do to make sure that you can easily search and watch our content.
When you click the upload button, you can already set the visibility of your video – you can set it to public right away if you don't have a set schedule or schedule it anyway if you have the timeline. You can also set it to private and change the visibility whenever you feel like it.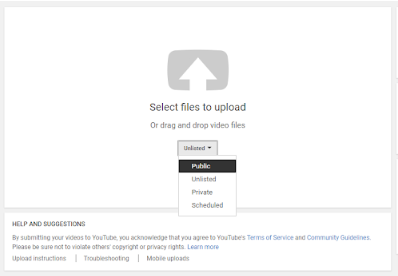 Okay, now for the good stuff.
Always check your title
The title has to have the essence of what your content is about – does not need to have too many words, it needs to be precise and concise with no bullsh*t nor clickbait-y words (if possible) that deter to the content of the video. It should clearly summarize what it is about and what the audience can expect from it.
Create an informative description
From the title, the audience has gathered more or less the essence of what the video will be about. Here is where you can do in-depth with your description, you can add your sources and references as well. You do know that on the internet that plagiarism is quite rampant and you don't what to be that person who does not give credit when it is due, right?
Create a thumbnail
Let's get visual. We all know that people don't like reading stuff on the internet, they prefer to listen and see whatever is on the content. Here's where the thumbnail comes into play. It has to be visually appealing, not overly decorated. It has to have an impact and an outlook on what your content is about. It needs to have something that will have people linger on the visual or take a second glance. The more people you get to stop and look at your thumbnail, the more likely are they to click and watch it, does that one make sense?
Don't forget the tags
Tags are, to put simply, keywords whereby one searches on the engine to look for certain topics or content pertaining to the keyword.
Add it to the appropriate playlist
Adding your videos to a playlist is crucial when you want to segregate your content into categories. It makes it easier for your audience to watch more content of the same category at one go.
Optionals but good to have
The End screen
If you have more time to spare, add a few more elements at the end of the video to direct your audience to another video or playlist. This ensures that they get sucked into the youtube playlist-video loop rabbit hole, if you know what I mean.
Annotation cards
Ever wondered what the little "i" icon on the top right of the video means? We know it as annotations, where you can add a website link or video to direct your audience to another content – this is especially helpful for those who might not be interested in the current video they're watching and might want to switch to a new one. This you can direct the audience to a video of your own, making them still stay on your channel for a period of time.
Closed captions
This feature brings in more possibilities for a wider audience. Yes, sure you have a dedicated audience that can understand your content with your native language but – someone else from another nationality could've been looking for the same content but they might not understand it due to the language barrier. Having closed captions or translated subtitles can be a hassle to work with for every video but it does pay ten-folds in the long run.
Call to action within the video
Use a call to action within the video, usually, content creators add it to their intros and video outros. Here's an example:
Hey friends! Welcome to the channel if you're new, hello I'm (insert name here) and I usually upload (what content you usually create on the platform and your schedule, if there's any). If you're a returning subscriber, welcome back! For today's episode, you'll be (insert a quick summary of content) and if you're interested in these kinds of videos consider subscribing and click the bell button to get notified every time I upload.
I hope that this helps you a bit with improving your YouTube searchability ranking. If you have other tips not mentioned above, please let us know in the Disqus comments and in our socials.
Akemi Trinindad
Social Media Specialist. She's mainly on Instagram @akemi_loves - loves food, travel and sometimes photography.
More from this Author