Do More with your Content with XSplit Video Editor
Akemi Trinindad
July 25, 2019
1 min read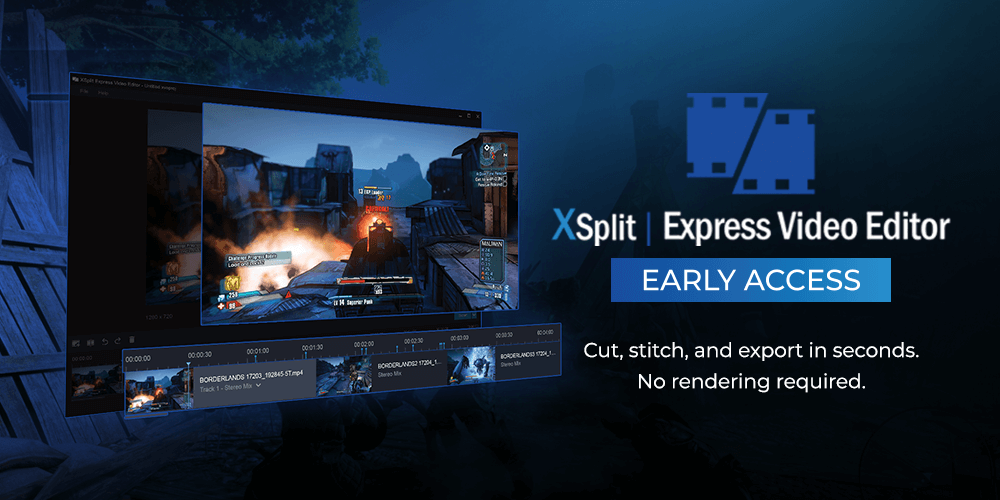 For nearly 10 years, XSplit has been an essential aid for content creators – whether for video game streaming, content broadcasting or just streaming in general. XSplit Broadcaster, Gamecaster, and the newly released VCam have all played an integral part in today's streaming lifestyle.
This summer, we're releasing another app that makes life easier while also allowing you to make the most out of your content. The team is excited to introduce the early access for XSplit Express Video Editor.
XSplit Express Video Editor
A well-loved but rarely utilized feature of both XSplit Broadcaster and Gamecaster, Express Video Editor is a good choice for faster and more efficient editing with a simplified and straightforward interface. Now with this standalone application, you'll be able to reap the same advantages and some more!
Effortlessly cut and stitch clips together, no rendering required
Have an upload-ready video in seconds
Import recordings from any streaming software at a click of a button
Incredibly CPU efficient
Completely FREE, no need for a premium license
Gone are the days where you'll need to use more complicated software to edit your gaming videos. With Express Video Editor, you can stream or record with ANY application of your choice, have it imported seamlessly, edited and/or trimmed, and exported for upload in a span of few minutes without the hassle of learning a complex video editing software.
Availability
XSplit Express Video Editor is on early access and is available at xsplit.com/video-editor. We'd love to hear your feedback so please let us know what you think through the comment section below, our social media channels or by hitting us up on our official Discord channel.
Let's go and do some more content!
Akemi Trinindad
Social Media Specialist. She's mainly on Instagram @akemi_loves - loves food, travel and sometimes photography.
More from this Author