Content to Cash: How Content Creators Get Paid
Mia Clark
July 11, 2020
5 mins read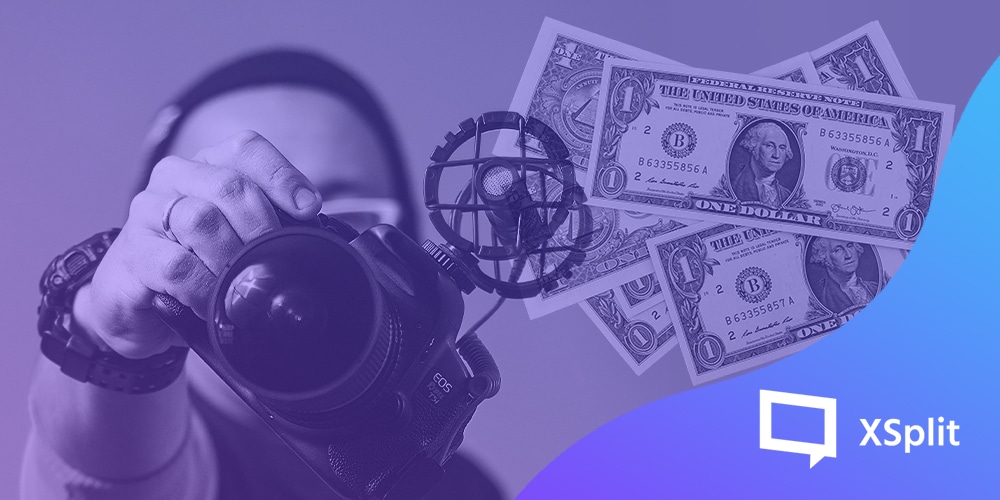 Until recently, content creation was regarded as a hobby. It was a past-time fun activity to while away time. Fast forward to today, digital content creation has become conventional. The likes of YouTubers, Instagram influencers, DIY bloggers, as well as podcasters, to mention a few, have an incredible chance of obtaining a good income from the content marketing industry pool value estimated to be over $40 billion. If you are wondering how content creators make money, then this is the article for you!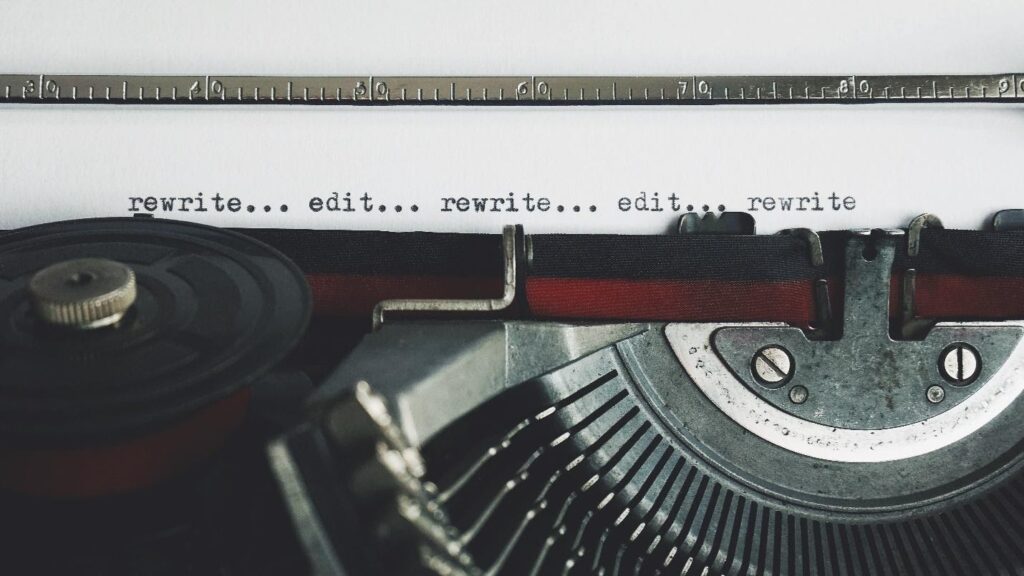 The content creation career has various business models that one can implement to generate some serious income. However, just like in any other industry, not everything is rosy within the content marketing industry. Some factors have a great effect on the level of income. 
Regardless of the field that you are focusing on as a content creator, the major key to success is identifying the needs of your target market. It is the primary thing you should take into account before you venture into the industry. Understanding your target market's trends, preferences, as well as characteristics will help you remain relevant, hence managing to reel in significant traffic. 
For one to be successful in content marketing, several aspects need to be taken into consideration. This includes SEO, apart from the factor of constantly battling for the market's attention. It is this factor that has contributed significantly to the rapid changes in content. The tight competition has spiked an increase in the level of innovation within the content marketing industry. That is the reason why, as an aspiring content marketer, you must stay updated with trends as well as progress within the arena. Pay close attention to some of the vital and latest statistics concerned with content marketing. With all this considered, you can come up with a robust strategy. 
Use of Organic Traffic
Positive SEO results accompanied by organic traffic form the main scales of content marketing success. In a study by SEMrush, 76% of content marketers indicated that the key metric in measuring content success is organic traffic. This only testifies that even though there are other funnels for driving traffic, organic remains at the top of the list. 
The second metric, however, is not concerned with the quality of organic traffic. Rather, 62% of the content marketers pointed out that the number of leads generated serves as an indication that the content is effective compared to the 60% that focuses on sessions as well as page views. 47% favored conversion rate as the key metric when measuring content success, with only 31% keen on using bounce rate. 
It's important to bear in mind that a well-ranked piece of content does not guarantee relevant traffic or quality leads. Understanding traffic quality that you're reeling in via content marketing techniques as well as the number of visitors that eventually convert is one way of determining if your content marketing is on the right path and hitting its target.
Times Change, So Do the Techniques 
Back in 2014, the average time invested in creating a blog post was about 2 hours and 24 minutes. You will initially expect the period to lessen considering the evolving digital environment that has seen the introduction of better content creating tools.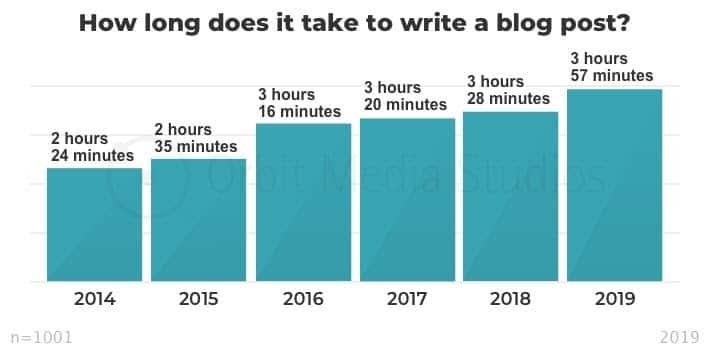 As a result of the increased competition and influx in supply, it now takes more time to write a blog or create content than before. This means content creators are becoming more aware of the consumer needs, hence the need to react promptly with lengthy and quality content. 
Upon surveying a target group in 2019, 19% of the writers indicated having spent up to 6 or more hours creating blogs whereas, in 2014, it was only 4.6% indicated having spent the same amount of time. This is caused by the increase in competition which translates to a demand for more informative and well-researched content. Therefore, most of the businesses are now more focused on quality compared to quantity.
Video Marketing
Video marketing has a stronghold in the content marketing industry. Out of the 26% of bloggers who include videos in their content, 41% indicate receiving good outcomes. With the market demanding content that is easy to digest, video marketing has become the answer to many content marketers.  
SEO Marketing 
SEO marketing is at the epicenter of content creation. Despite having other options to generate desirable results, SEO has proven to be the most used and most reliable content marketing technique. 67% of content marketers even claimed that search engine optimization is the most effective model. However, with Google's organic search algorithm constantly changing, the use of SEO to its effectiveness will become more complex as it will need more than just encompassing SEO. 
Factors That Affect Income Level 
There are various platforms that content creators can utilize to generate income. In most cases, the income that they can gain depends on the platform they choose to go with. In the case of video-oriented content developers, opting for a YouTube platform will help reach a wider audience compared to other platforms.
Various platforms are used by businesses to outsource their tasks to content creators. Examples of these platforms include Fiverr, Freelancer, Upwork, and Guru. On these platforms, content creators, ranging from article developers to podcasters, can be found marketing their skills. However, this is just the entry-level platform for startup content creators. 
Well-established content creators make a good amount out of blogging, vlogging, and podcasting. Below, we have listed down the names of some of the top bloggers, vloggers, and podcasters today. 
Top Bloggers 
Yaro Starak – He makes way over $40k per month. Yaro is a well-known blogger who delivers content aimed at assisting online entrepreneurs. Selling of digital products is his main source of income supported by affiliate marketing and advertising. On his website, Yaro goes literally everywhere with each of the posts including a picture of him. 
Trevor & Jennifer – They are the owners of the website Show Me The Yummy. These two are making waves with their popular recipe website. With an estimated income of over $46k per month, 55% of the amount comes from advertising, as well as freelancing.
Pat Flynn – He is one of the most influential bloggers and had been earning $3 Million per year for 6 straight years.
Tim Sykes – He is a wizard when it comes to blogging. Started as a Penny stock trader, Tim Sykes converted into a blogger/Instagrammer to become the most successful. His money is mainly generated from selling courses that help individuals learn how to stock trade effectively. Tim has an Instagram following of over 1.5 million and is very active to stay in touch with his followers. 
Income for Podcasters
There are four common means of making money as a podcaster which includes:
Sponsorships – this is the most common money-maker in podcasting. Sponsorship can generate anywhere between $18 and $50 Cost Per Mile (CPM), but well-established podcasters can generate way more than that. 
Premium Content – this allows you to charge your audience a fee to gain early access to your content and/or download content resources. 
Affiliate – similar to sponsorship, the podcaster receives a percentage fee of what they sell for another company. 
Complementary Products – using this option, a podcaster can sell complementary products via a drop service or print-on-demand. 
To be successful as a content creator, you need to identify your target audience, categorize it based on age, location, lifestyle, and so forth.
B2B Content Production
As of 2020, 69% out of the 41% respondents of B2B marketers document their content marketing strategies and are regarded as successful. 69% of the most successful marketers compared to 18% of the least successful indicate that having a properly planned content marketing strategy yields higher chances of success. Moreover, the respondent's figures have been steadily increasing over the few years, with 2019 receiving 39% compared to 37% of the previous year.
Outsourcing Content Creation
With the reality of content creation now taking more time than ever, it comes as no surprise for an organization to outsource the task. 84% of B2B marketers outsource content development tasks, which means there are fewer businesses that opt to have an in-house content development department.
Content outsourcing is not concerned with the size of the company, it has its standalone budget. It also shows that even though most of the businesses have the capability of having in-house content creators, they choose otherwise. 
Although this can be advantageous for content marketing service agencies, to some extent it proposes to businesses to take content creation responsibilities by being more reactive. For instance, to keep the business's finger on the pulse, they can rely on an in-house content team to deliver current news while other content needs are outsourced. Thus, combining in-house as well as outsourced content creation models offers a wide range of benefits. 
Mia Clark
Mia Clark is an expert in content marketing. She works for VPN Watch with over 7 years of experience as a blogger, speaker, and influencer. Her work speaks volumes and he covers various topics from tech-related to effective business models. She has helped a significant number of brands come up with effective campaigns accompanied by useful advice. As a content creator, she believes sharing is learning!
More from this Author