Claim your Founders License now, for Free XSplit Gamecaster for Life
Jon Young
December 16, 2019
2 mins read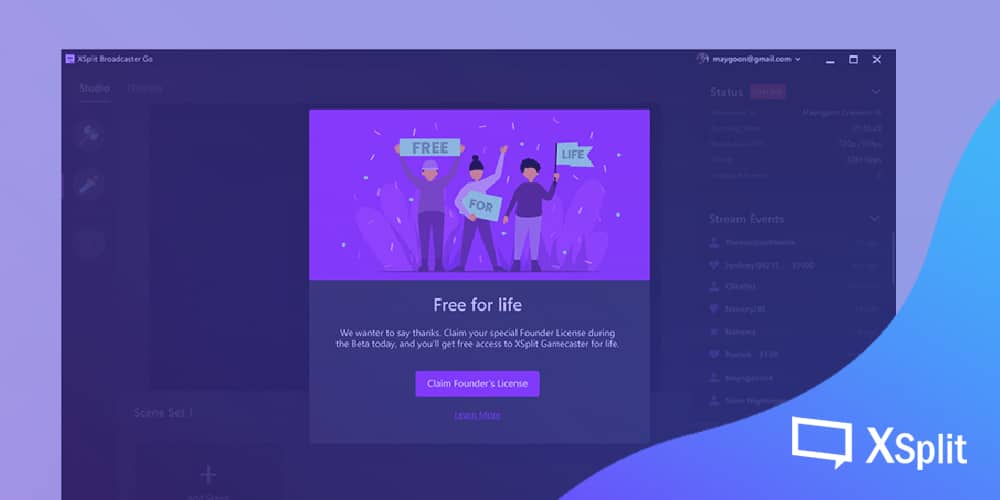 It's been a little over one month since we launched XSplit Gamecaster V4, a complete reworking of the app and we were blown away by the tremendously positive feedback we received from our community. For that, we are truly humbled and have been listening carefully to all of your thoughtful comments and suggestions via our Discord and Feature Upvote.

We still have some way to go as we continue to update the app with new features and improvements, but as we approach the end of the year thought it appropriate to give you all a special thanks for taking a chance on trying out XSplit Gamecaster.

With that in mind, we are introducing the Founders License, available for all who try out Gamecaster through the open beta and grants them complete access without any license restrictions for life. 
How To Claim your Founders License
To be eligible to claim your free XSplit Gamecaster Founders License, you need only open up XSplit Gamecaster and click your user account in the top right corner and follow the onscreen instructions. It's that simple and takes just a few seconds.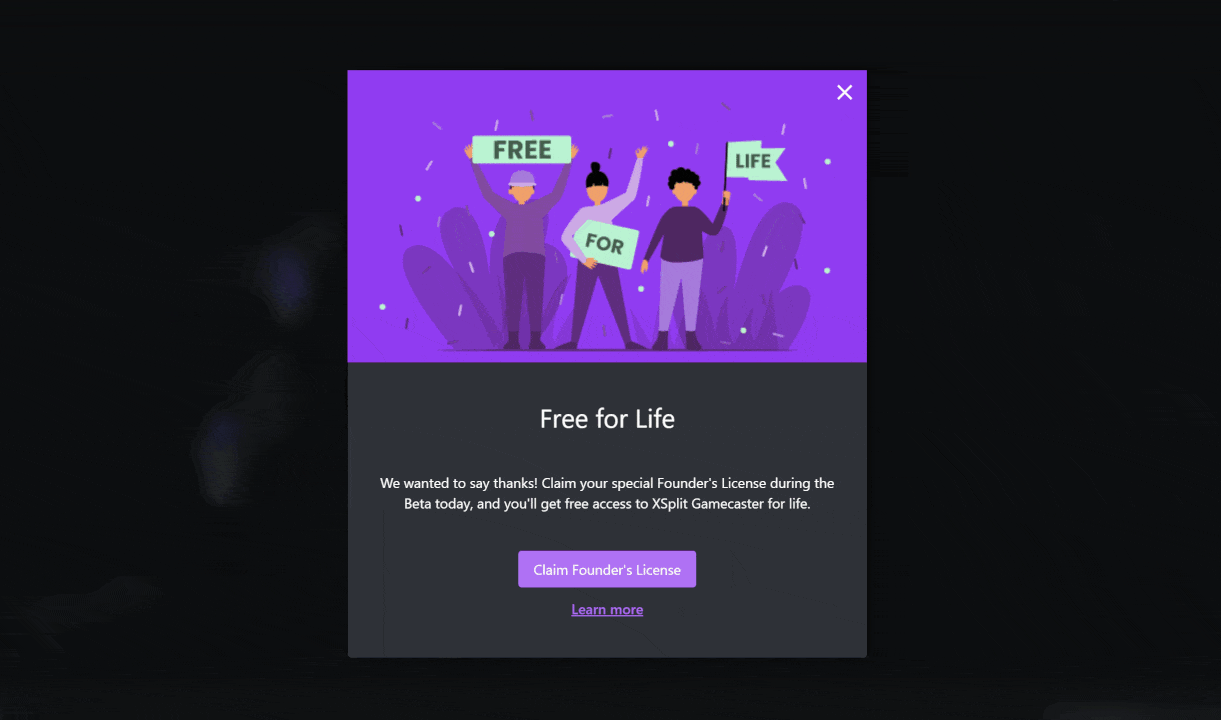 The XSplit Gamecaster Founders License is our way of saying thank you by guaranteeing you free access for life to the app as we continue to develop it. While we have yet to announce any further plans for monetization options in-app, we know there has been some confusion from our early-adopters as to if they will eventually be locked out of the app and served a paywall, this license is our promise to you that will not be the case. 
The XSplit Gamecaster Founders License will be redeemable throughout the Open Beta period. We expect to announce a date for the end of this period in the new year, so make sure to claim your Founders License while you still can!
What's Next for XSplit Gamecaster?
Since launching back in October the XSplit Gamecaster team has been introducing new updates at a rate of nearly once a week, each time addressing bugs and issues as well as polishing the user experience for easier navigation and greater control of your broadcast. 
As we move into 2020, We are looking to introduce new features into XSplit Gamecaster as well as continue development on XSplit Broadcaster, XSplit VCam, and XSplit Express Video Editor. In the meantime, to stay up to date on the latest developments of XSplit Gamecaster and our other applications, make sure to follow us on Twitter, as well as join our Discord where updates are shared. 
Jon Young
Jon is our resident Product Manager for XSplit Gamecaster! A big gamer at heart, you'll either find him dying hopelessly in the action or hiding at spawn! Twitter: @jonlineuk Discord: Jon#2542
More from this Author