Choosing the Best Streaming Headsets
Melvin Dichoso
November 07, 2019
7 mins read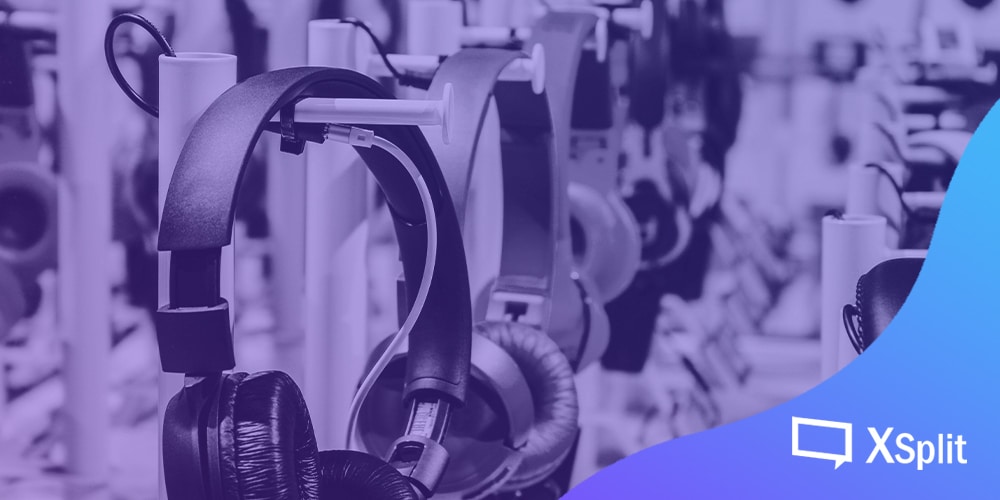 Choosing the best streaming headset can be a headache when there are so many options in the market today. We've long reached a point where headsets are integral to our everyday lives regardless of what we're doing. Just take a look around you. I can guarantee you're going to be seeing at least someone wearing one.
Gaming headsets are no exception. It is without a doubt a must for the hobby but also if you're planning to venture out into live streaming or recording. It lets you communicate both with your viewers and fellow players while also providing that audio clarity that is important for staying competitive with any game you're playing. 
If you've stumbled upon this post, there's a good chance you're using a stock headset that came in free with a different tech peripheral purchase or you're probably looking to upgrade for a better overall experience. In this blog post, we will cover all the bases from features to look for, to recommendations per price category, even compatibility with various devices. Our main goal is to help you with all these things which hopefully aids your decision in your purchase if it ever comes to that.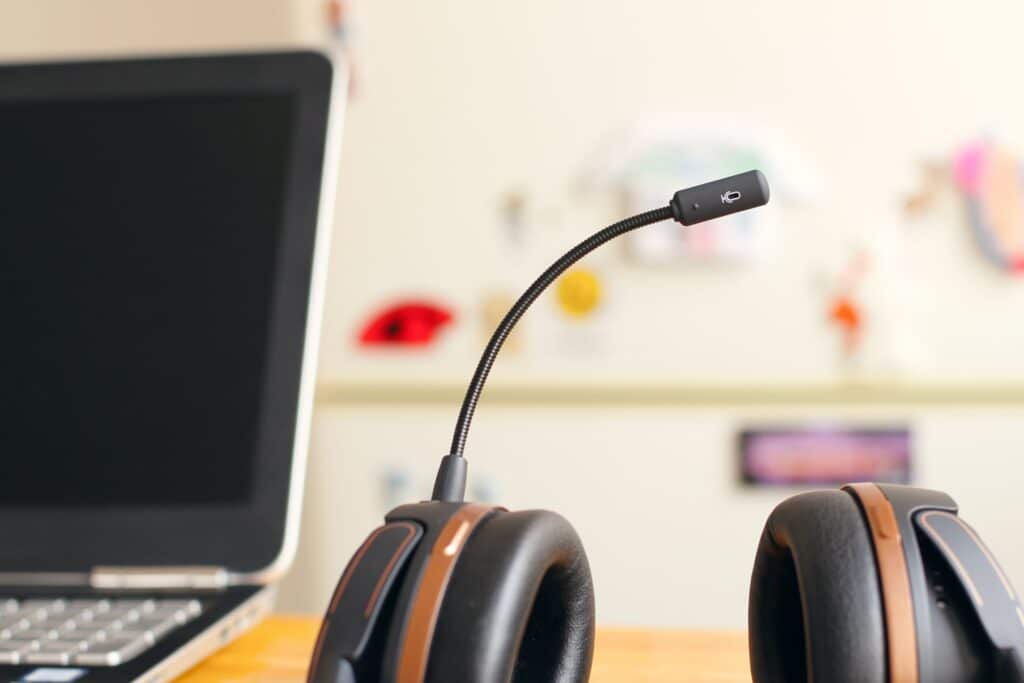 Features to look for in a streaming headset
I personally have an audiophile/headphone enthusiast background but I'm surprised how similar they eventually are with gaming and streaming headsets. The list comes in no particular order and you may value some of them more than others which is perfectly ok. To each, their own as pundits like to throw around.
Comfort and Build 
It all starts with these two. What's the use of all the bells and whistles if you can't stand wearing it for more than an hour or worse, can't make it last for just a year? Thankfully, these are two qualities manufacturers are getting right more often than not these days. 
Comfort can be quite subjective as it very much depends on the size of your head, preference in materials (you like leather from dead animals or synthetic), and really just how you define 'comfort' as a whole. I know people who like a more snug fit but also know a handful who like things a little loose. Then there are other things to consider like do you find cables cumbersome enough for you to start looking into wireless options? Those and many others are things that you'll have to decide for yourself.
Build quality, on the other hand, is more than just the materials the headset is made of. Something that's built from aluminum or metal feels nice but there are a lot of plastic-made headsets that really feel durable. In the end, it's worth exploring reviews from other users too since nothing can quite surpass real-life experience (this is a common theme in this review btw).
Sound features
We can probably all agree that having a good sounding headphone is a must. That, and the fact that audio quality can be quite subjective means only you will know what a good sounding headphone is for you. Perhaps a touch more thump in your bass, or more warmth in the midrange, or some sparkle up top? This one's all on you.
Setting that aside, one specific feature you need to look into here is surround sound. Whatever it is you're playing, getting good positional audio gives you a real advantage against the competition. Without that, you might as well just use a normal set of portable speakers.
Diving deeper to surround sound brings us to its two types namely virtual and true surround. As the name implies, virtual means simulating real spacious audio via software optimizations. There are many proprietary standards here such as Dolby, DTX, Creative, you name them.
The "true" in true surround sound, on the other hand, is the physical driver attached to the earcups. Unlike the virtual way, this setup literally lets you hear audio from various positions simulating a full speaker setup experience. One may argue this is overkill especially since not all games support Surround audio, but definitely having this gives you that immersive experience that you won't simply get in a virtual setting. 
Microphone
Microphones in gaming or streaming headsets are often an afterthought, but it's important to give it a key consideration when shopping around especially since you'll be using this for streaming as well. Remember, a good microphone is important for high-quality live stream audio.
Do you see yourself using the microphone in the headset as your main one? Or is it more for on-the-go where you'd want to have it detachable so you can remove it when not in use? If it's going to be the main one, then it's important to ensure its quality is good and you're also able to easily maneuver it. You'd be surprised by how adjusting things by an inch or two can make a huge difference in your voice quality. 
Finally, does the software that comes with it give you all the controls you need? Or does it even come with software that allows you to adjust things? You may not need these customizations if you're just starting your streaming career, but they are handy to have as you progress.
Noise Isolation
This one is maybe not as necessary as the others in this list, but it's handy to have for sure. How much noise isolation you want is up to you, but one thing to keep in mind is there's a correlation between isolation, seal, and sound quality. Remember surround audio and the positional imaging it brings? It diminishes if the headset is poor at isolating noise. 
Another factor that can be related to this is the seal the headphone creates. Does the shape of the earcup contour well to your ears? Or is the headband fit snuggly to your head? Those are things that vary from person to person which is why reviews can differ a lot in this regard.
Tl;dr – This one's gonna come up a lot, but if you can go to a physical store and fit the headset, do it. You'll save yourself some headaches down the road.
Look & Aesthetics
You'll be streaming, potentially in front of hundreds, hopefully, thousands of viewers. Of course, you want to look badass. One may argue this isn't really needed because people will barely see or care about you on screen but let me ask you this, even if you're just playing a game, do you not want to look dope? We gamers buy pretty stuff all the time even if it's just for us so why skimp on your gaming headset? 
Now how you want the headset to look in your head is, again, completely up to you. Coming from the audiophile world, my taste is quite different but this one is surely gonna be in line with your personality and how you want yourself to come across. 
Imagine your keyboard, mouse, and rig lighting has some blue accents in them. Do you want your headset to be yellow and orange? You know the answer.
Streaming Headsets per Price Category
I wanted to preface this section by saying the headphone market as a whole is getting more and more competitive and the differences between a budget model compared to a super high-end one boil down either on the extra features or build materials (e.g. real leather pads vs pleather). With all of that being said, it will be hard to go wrong with any of the gaming headsets suggested in this list but there is no substitute still for visiting a local brick and mortar store and trying them out physically. And finally, the good old "your mileage may vary" disclaimer is something to keep in mind as well while reading our recommendations below.
Budget Headsets (Sub $100)
Corsair HS60 Pro
You think of a $50 headset and you immediately have your reservations about it. It probably sounds tinny, has a build that's as flimsy as grandpa's ankles, and is likely just unappealing to look at. Except it's not. 
Corsair HS60 Pro probably has one of the more reserved aesthetics but it surely delivers more than its price on departments that matter. It even has a virtual surround and while you're not gonna mistake it for a real surround spacious experience, it's handy to have for $50.  
Check out the HS60 Pro on Amazon.
HyperX Cloud Stinger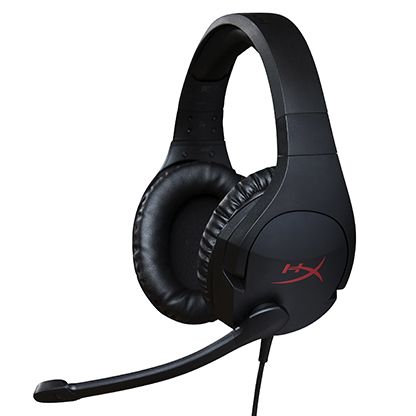 HyperX is a household name for reasonably-priced peripherals. Their Cloud Stinger headset is apt for that billing. 
They both have the stereo and 7.1 surround sound variants and I highly suggest you upgrade to the latter for $30 so you get the full experience. Just like the Corsair HS60, you're getting a lot of value and quality for the price.
Check out the Cloud Stinger on Amazon.
Razer Kraken Tournament Edition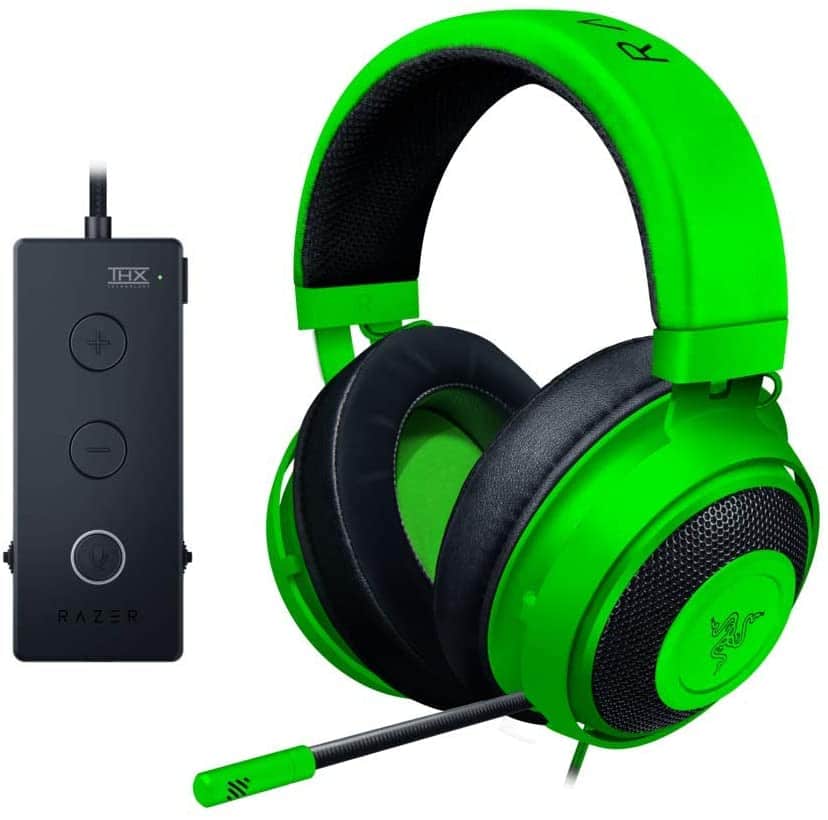 Any list that's about gaming peripherals won't be complete without any mention of a Razer product, and for this one, it's the Razer Kraken Tournament Edition.
Feature-rich, unparalleled comfort, decent audio quality, and a look that's catered to mainstream gamers. Can't go wrong with this one especially at its current price point.
Check out the Razer Kraken on Amazon.
Sub $200
Steelseries Arctis Pro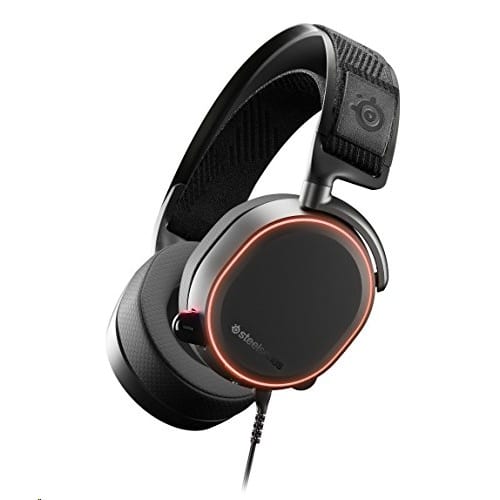 They both have the wired and wireless versions of this headset but unless you really want the convenience of not having a cable, the former is more than capable of doing the job.
While it doesn't have that big 50mm driver of some of its counterparts, Arctis Pro more than makes up for this with an added DAC (digital to audio converter) which makes for some of the best lossless music listening experience for this type of headset. What else does it provide? DTS X 2.0 for an immersive and spatial audio experience, a high-quality microphone for unparalleled voice clarity, and a luxurious comfort thanks to premium materials and good design choices.
Check out the Steelseries Arctis Pro on Amazon.
Logitech G Pro X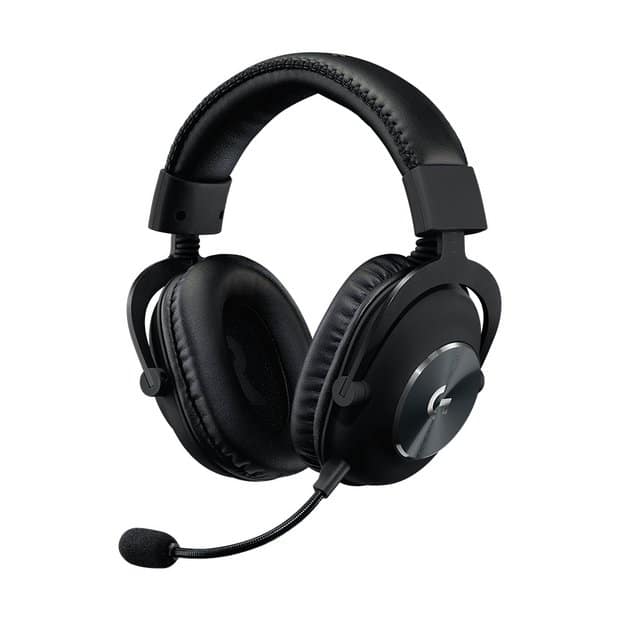 One of the more expensive Logitech cans, the G Pro X is ostensibly towards a competitive gamer. Someone who's probably into esports, hence the Pro name in it. This headset has everything you're looking for in a modern streaming headset. It looks good, sounds good, quite comfortable to wear for long hours, and is on-par with most of the more expensive items here feature-wise. 
The best feature for me though? The masterful microphone definitely takes the cake. It is comparable to most standalone desk microphone and also gives you a ton of software control through their G Hub software. Thanks, Blue!
Check out the Logitech G Pro X on Amazon.
$200 and beyond 
Sennheiser GSP 600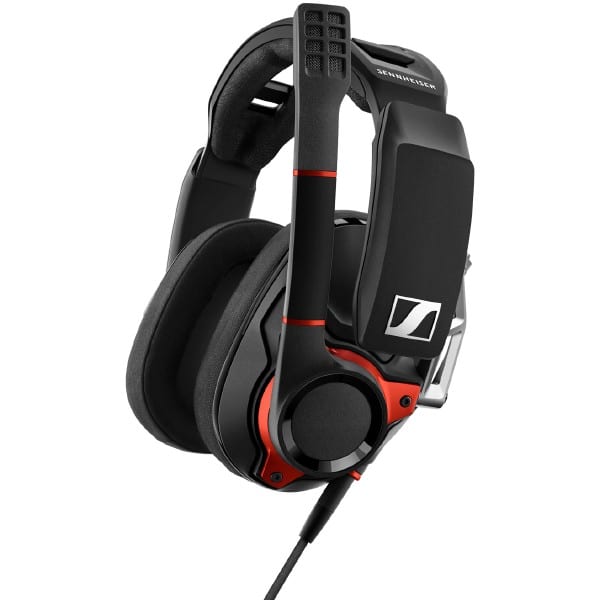 Want your audio big and bouncy? Sennheiser's humongous GSP 600 headset delivers just that. If you don't mind its heft, polarizing look, and its price, Sennheiser GSP 600 easily ticks all the boxes. 
While not as feature-rich as some in this list, it nails the ones that truly matter. High-quality microphone with automatic muting, check! Superb audio quality, check! Good comfort and noise isolation, check! Hard to go wrong with this one. 
Check out the Sennheiser GSP 600 on Amazon.
Astro A50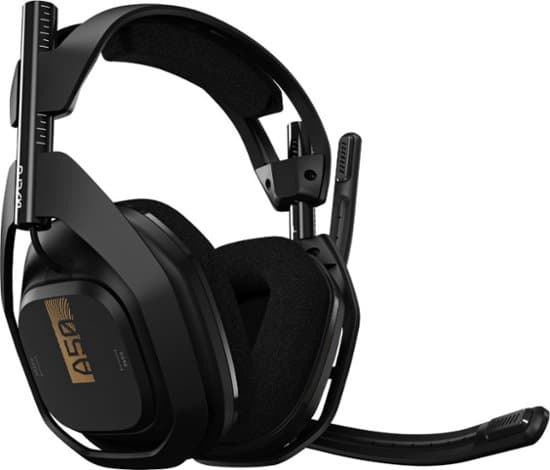 The most expensive gaming headset in this list, Astro A50 comes with everything we've listed here plus more. The command center software gives you complete control with both the audio and voice experience. It has a USB sound card function that allows audio access on your PC with no optical cables needed. Heck, it's even mod kit ready, allowing you to customize the headband and earpads rather easily. 
For years, Astro has been quite synonymous with gaming headsets. While there are now more players in the market, their A50 headset remains competitive for the ultra-high-end category. 
Check out the Astro A50 on Amazon.
Last Words
We hope you enjoyed this article. But more importantly, learned a thing or two in choosing your next streaming headset (especially those at crossroads). If you're already using one that you're happy with, then maybe you can share your thoughts.
No gaming headphone or headset is perfect. Yes, we vouch for all the headsets included here but this is far from an exhaustive list, and that's fine. Maybe you've tried or using a different headset that you think is really good but is not getting any credit. Or perhaps your experience with one of the headsets that we listed above is not good at all, even nightmarish! Whatever that is, we'd love to know. Tell us your thoughts on the best streaming headsets in the comments section or hit us up XSplit on socials.
Happy listening fam!

Melvin Dichoso
A basketball junkie, blogger, headphone enthusiast, aspiring chef, and traveler wannabe. Does social media and various other stuff for XSplit.
More from this Author