Interview with Felicia Day, and how she streams tabletop with XSplit
Felicia Day's body of work is well known throughout the geek-o-sphere! Creating seminal web series – The Guild – watched by millions worldwide; to pioneering tabletop live streams on Twitch, or starring in cult hits such as Supernatural, The Magicians, and Buffy The Vampire Slayer.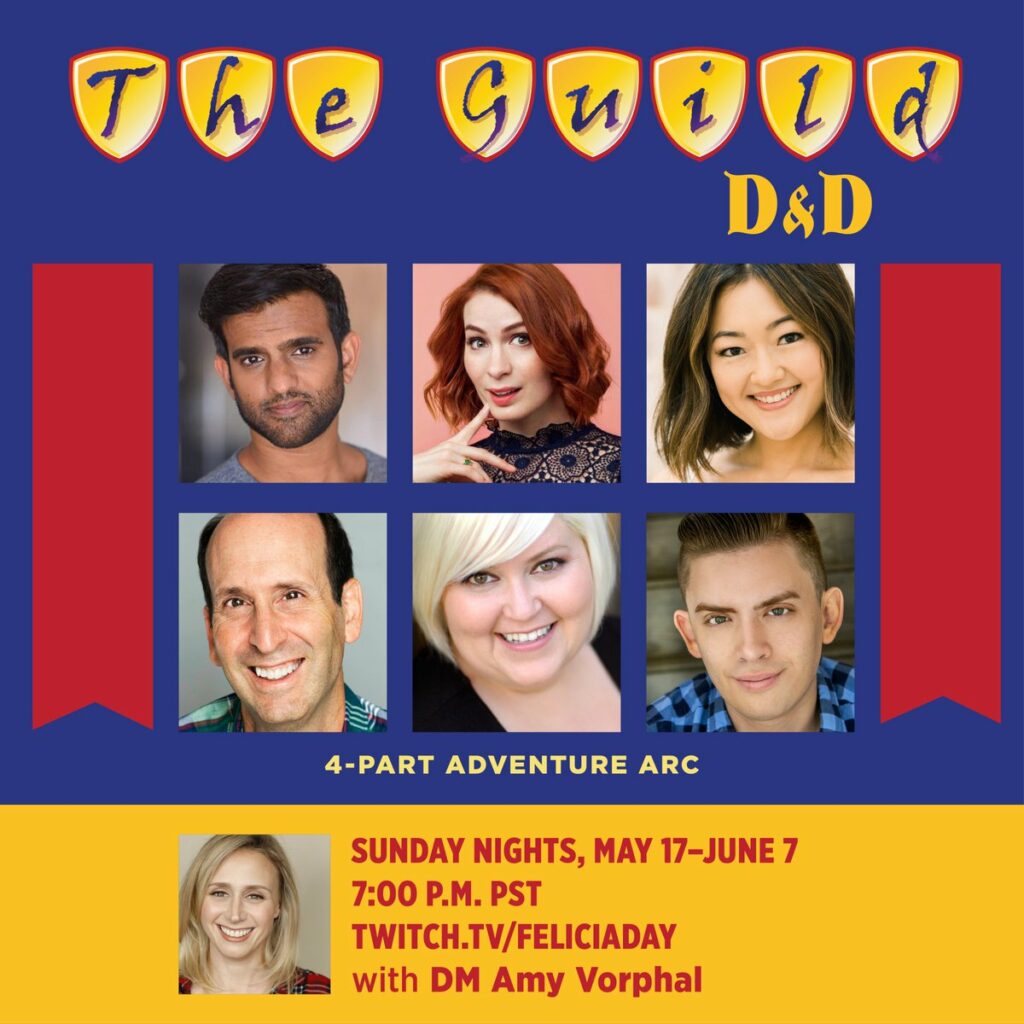 We had a chance to catch up with her, before she kicks off a new series of D&D live streams with an all-star cast of familiar faces. Join us as we dive into the challenges of live streaming tabletop games. She shares her history of using XSplit, as well as some sage advice that may help guide your own eventual D&D stream in the future!
What is it about tabletop that you think translates so well to a live-streamed format?
I think that the live format works best for gaming like D&D just like it works best for comedy improv. The spontaneity of the moments is more believable when you can SEE people making things up! When you edit things into smaller, more polished videos, the audience starts to feel like it was all staged, even if it was made up on the spot. Also, some live moments are hilarious in person (or on live stream) but don't seem as funny later, when you're not actually in the crowd. 
What challenges have you faced translating a game to a live stream when you can't have everyone in the same room?
Other than tech issues, which are ALWAYS an issue with live streaming, not having everyone in the same room playing is challenging because there's a natural chemistry between people. If you can read other peoples' facial expressions and anticipate someone speaking, you can build on what they're doing easier for story and jokes. Remotely, you kind of have to find a different kind of rhythm for not talking over each other as well. The good thing is that The Guild has been together since 2007, so we have shortcuts between each other that help overcomes hurdles faster than a new group would. 
You've been using XSplit for a while now for your streams, why is that?
I first started streaming in the fall of 2014, so a LONG time ago! I did it while I was running a big company called Geek and Sundry. It was a personal outlet where I wanted to get in touch with my internet roots. Because I was so busy, I didn't have a lot of bandwidth to figure out the tech of it all. In searching for ways to stream simply and easily, XSplit stood out among the options as most turnkey. I'm so glad I did! Five+ years later I'm still going strong!
You're going to be producing some live D&D streams soon, can you tell us about what and who we can expect? 
I am going to be producing 4 D&D streams with The Guild cast on Sundays at 7pm PST on my twitch.tv/feliciaday channel! I'm thrilled to be able to bring the cast together after many years of not making videos! We did a charity stream last month that raised 40k and couldn't wait to get the gang back together for more! DM Amy Vorhpal is so funny, the streams will be a riot I'm sure! Thank you to XSplit for sponsoring and giving us the ability to do this 4 episode story arc!!! 
Finally, what advice would you give to someone looking to start their own D&D stream?
I would urge people to innovate from what other people do if they can. Standing out in a crowded field requires imagination and incredible chemistry between players. But don't hold back on just streaming for fun if you don't have a genre-cracking idea right away!
You need to make your content as unique as you are. But sometimes we have to try simpler things before reinventing the wheel. Watch what other people are doing who are successful in the field.
Think about what your own version would be and what different twists you could put on it. And have fun first and foremost! You won't go the distance without having an organic connection with what you're creating. If you start streaming D&D because you want fame or money or followers, you'll burn out and quit fast.  Do what you love first, that way you'll stick with it and learn from everything you do!
The Guild D&D 4 Part Adventure Arc kicks off May 17 at 7:00 P.M PST, and will be running every Sunday until June 7 on twitch.tv/feliciaday. Join Felicia Day and an all-star cast featuring Sandeep Parikh, Amy Okuda, Jeffrey Lewis, Robin Thorson, Vince Caso with Amy Vorpahl as DM.