2014 Extra Life Charity Event
Melvin Dichoso
July 02, 2015
1 min read
For the third straight year, XSplit is once again supporting the Extra-Life Charity Drive by providing XSplit licenses to the participants.
For those not familiar with Extra-Life, it is a charity that celebrates gaming culture where entrants host a variety of events with everything from gaming marathons to LAN parties, all in an effort to raise money and awareness for children's hospitals. Since 2012, XSplit has always been on board to support the event. And we're back for round 3 this year.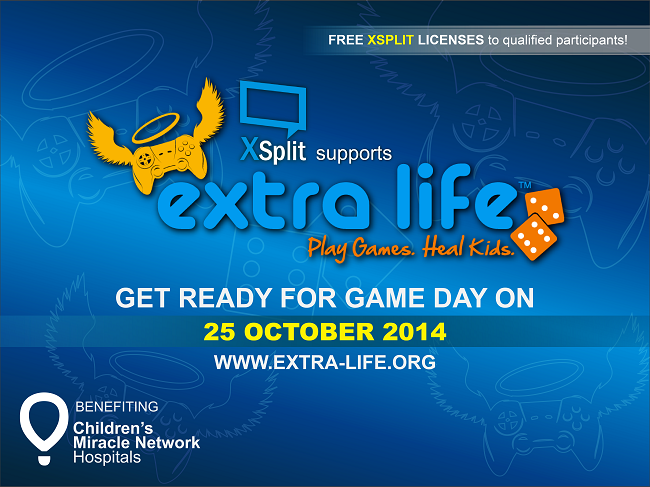 How is XSplit supporting the event?
Anyone that registers for this year's Extra-Life charity event and raises at least $25 in sponsorship will receive a 1 Month XSplit Premium License completely for free.
How can i get involved?
The easiest way is to visit Extra-Life's official website, whereby users can register for free and begin gathering support from their friends and families.
Are you organizing an event for Extra-Life?
If you're organizing an event for Extra-Life, we want to hear about it! Send us a tweet via @xsplit telling us about your event and we will be happy to help you promote it. 🙂
Melvin Dichoso
A basketball junkie, blogger, headphone enthusiast, aspiring chef, and traveler wannabe. Does social media and various other stuff for XSplit.
More from this Author