XSplit powers Twitch X Reddit IRL at SXSW 2017
Melvin Dichoso
March 13, 2017
1분 읽을거리
After all the craziness from PAX East, our media production team will be heading off straight to SXSW to handle the live stream of 'Twitch x Reddit IRL', a partnership between Twitch and Reddit where they essentially do a live 4-day Ask Me Anything experience at the event. How exciting!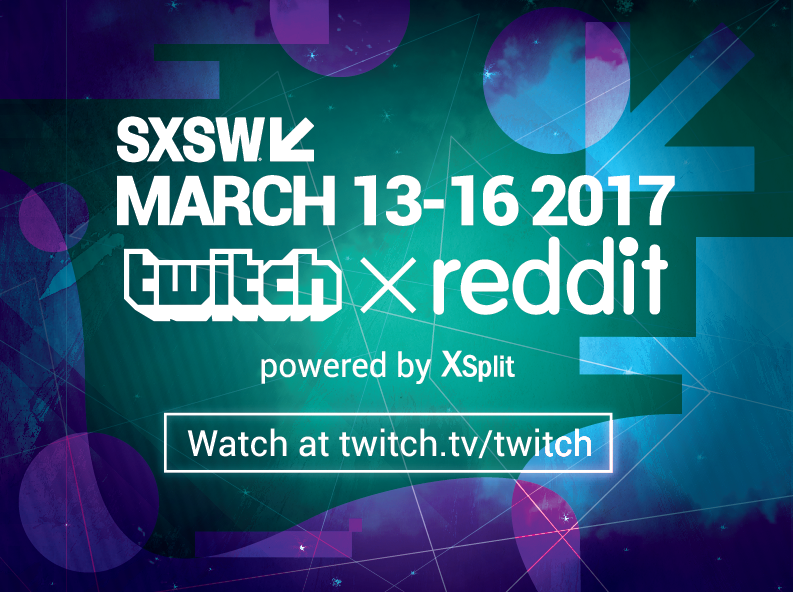 Live AMA's will be conducted throughout the week and will be live streamed at twitch.tv/twitch. Topics vary from movies, to music, to gaming and more! Here's the list of thing to look for to according to Twitch's announcement.
Grandmaster Flash, hip-hop pioneer and icon*
AWGE feat. A$AP Rocky & A$AP Mob*
AMA: Gareth Edwards, director of Rogue One: A Star Wars Story
AMA: Steve Adler, Mayor of Austin
AMA: Adrian Grenier, star of HBO's Entourage
AMA: Gaelynn Lea, folk musician
AMA: Jeremy Scahill, investigative journalist, The Intercept
AMA: Whiskey Shivers, Austin-based bluegrass band
AMA: Ed Boon, Mortal Kombat creator, with preview of Injustice 2, his latest video game
Panel: Fearlessly Female — Boardroom and Beyond: Austin Mayor Steve Adler, Jill Cress (CMO, National Geographic Partners), Ingrid Vanderveldt (Founder & CEO, EBW2020), and Suzi Sosa (Cofounder & CEO, GoVerb)
MC Lars, seminal nerdcore rapper*
Curse Mackey, Austin-based musician
VR concert by TheWaveVR, Austin-based tech startup that delivers concerts to virtual reality devices*
Sony Pictures LIFE Scare Booth, a special onsite activation to promote the upcoming sci-fi thriller film, Life, in theaters March 24.
For those tuning in from the comfort of their homes, you can watch Twitch's full coverage of SXSW at twitch.tv/event/sxswgaming.
Melvin Dichoso
A basketball junkie, blogger, headphone enthusiast, aspiring chef, and traveler wannabe. Does social media and various other stuff for XSplit.
저자가 작성한 다른 게시물