Should Your Company Live Stream? Here are Ones That Do.
Live streaming, by virtue of its popularity and the sheer volume of users, has become synonymous with gaming and influencers. However, with live streaming being the new generation of video content, many industries have been making the most of the technology. We've already written about how live streaming is used in retail and video e-commerce. Now it's time to tell you about some uncommon companies that also live stream. Maybe this will tell you if your company should live stream.
Yes, NASA literally live streams things – a lot of things, in fact. And their streams are viewed all over the world. With their content being about incredibly interesting topics, they are able to command a large number of viewers. 
National Aeronautics and Space Administration
Part of their many initiatives is to educate and get people interested in space. So, as you might have guessed, their content consists mostly of educational documentaries. They also show views of Earth from space, spacewalks, discussions about their equipment and other things of spacey nature.
NASA has a page specifically for their live streams that lists down all their scheduled events such as showcasing next-generation spacesuits and media teleconferences. 
And pretty much at any time, you'll find something on live on NASA's YouTube. As of the date of writing, I'm actually feeling an overwhelming sense of calm as I watch a satellite's live view of Earth.
It makes me feel so small, so insignificant, in the face of the vastness that is our planet. This is the kind of thing that should replace those virtual fireplace videos some people put on to chill.
Your company might not have access to outer space, but maybe you have something just as interesting you can live stream.
Train Stations From All Over
One of the very basic elements of a live stream is a video source. You know what streams video practically 24 hours a day? That's right – a CCTV camera. And you know what public place has a ton of CCTV cameras? Well, there's a bunch, but if you guessed train stations, then you'd be right.
There are entire networks of feeds that just show either a railway lines, intersections, or train stations. You, as the viewer, are there waiting for the next train to pass by. There's a real sense of anticipation as you wait for the next train to roll by. After all that build-up, the pay-off is surprisingly quite satisfying.
There are a number of reasons for the existence of these streams. There's the obvious one – monitoring and security. They are CCTV streams after all. That's their primary function.
Another reason would probably be because there are a lot of people who just like trains. It's not that weird, really! There's a lot to like about trains – the sound they make when they speed across the tracks, their sleek designs, the function they serve in our ever-evolving complex societies… you know, cool things.
Railcam, a website based in the UK, which installs and operates railway webcams, has over 17,000 subscribers. They are non-profit and operate largely funded by donations.
If you want to see the Bullet Train operate in Tokyo, Japan, check out this channel. 
To find more, just search "Train Live Stream" and you'll find so many streaming feeds of entire stations and railways. It's good fun, and it really does feel like you're exploring the world and traveling. It's quite satisfying for someone who likes to travel but never really has time to.
This just shows that even the most niche things can have an audience. Maybe your company has something to live stream, too.
Parks and Zoos
Are you an animal person? Do you enjoy seeing creatures of all shapes and sizes walk around and generally exist? Well, you'd be glad to know that at any time you wish, you can surround yourself with all sorts of zoo animals via the power of live streaming?
Some zoos and parks have a feed of their zoo animals doing zoo animal things, like eating, grooming, sleeping, and probably just being all-around cute.
The Animal Adventure Park holds live streams of their animals. Last time I checked in, I was watching some giraffes chew on what I can only describe as a nutritious pillow. The streams aren't 24 hours, but they do go for quite some time.
One of the most famous zoos in the world, the San Diego Zoo, has one of the most amazing live stream setups for zoo animals. Once you drop by their live cams page, you can choose your cuddly creature of choice. They have cameras in enclosures for the baboons, penguins, pandas, koalas, and tigers, just to name a few.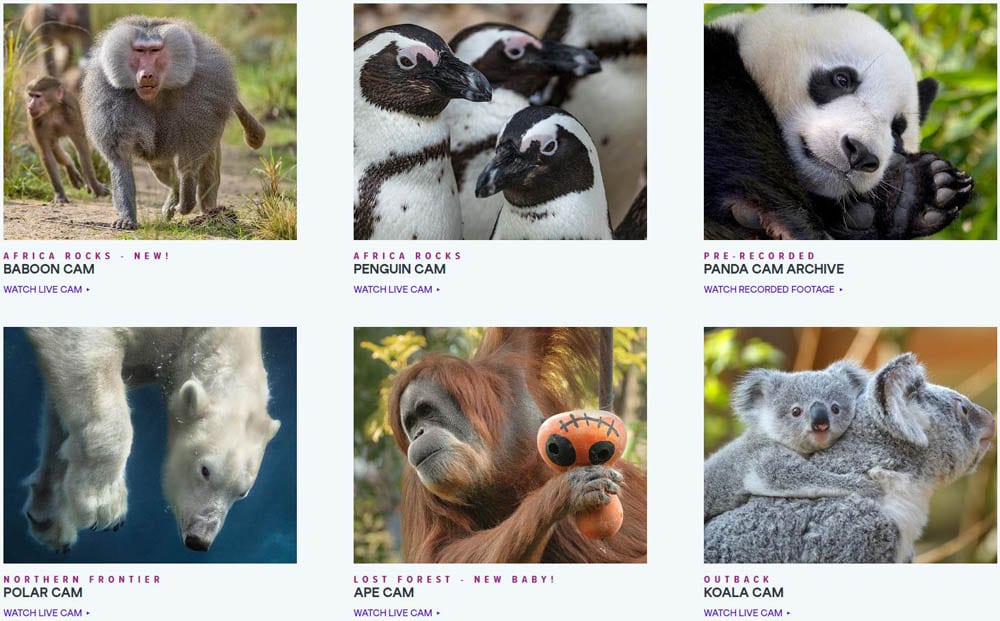 Most of the time, you'll end up watching just the habitat for extended periods of time, but much like the train live streams, it's the anticipation and build-up that gets me hooked.
Another channel that features animals is called Explore Live Nature Cams, and they seem to shoot in parks and riverbanks. You'll get to experience nature in its more raw form, from the comfort of your own home. In the stream I tuned into, I was watching a grizzly bear (or what I assume is a grizzly bear) catch and consume some fish. For 30 or so minutes, I was cheering him on, as he endeavors to catch more fish. I even felt bad for the guy after a couple failed attempts and then BOOM, he snags one right out the air.
As our bear protagonist moves away from the river to indulge in his fishy treat, another bear comes out of nowhere and fights him for it. It's some heavy drama if you ask me.
Your company may not have cute animals, but there's bound to be something interesting to live stream. It doesn't have to be a 24/7 always-on kind of thing.
Funerals Services
It doesn't get any more unconventional than this.
When a loved one passes away and some of their family members are unable to attend the wake or the funeral, they can choose to simply just watch the live stream of the wake or funeral. An ever-increasing number of funeral homes have been offering live streaming at a tiny cost and it's being met positively. Around 20% of all funeral homes in the United States offer such a service.
Funeral live streaming lets friends and family pay their respects in some fashion even if they're from a different country or are unable to travel, but another side benefit to live streaming is documentation.
When holding a service, it's great to be able to go back and hear all the wonderful things people have to say about the deceased. Memories are going to be shared, stories are going to be told and a recorded live stream will be the best way to relive all of those.
Know any other weird, unconventional live streams?
I've covered a few here, but I'm sure there are a lot more streams out there that are just as unconventional as the ones I've mentioned here. 
Mukbang was supposed to make it into the list but that's been around for years, and it's considered a bit mainstream now. What are your favorite off-kilter streams? Let us know in the comments! And oh, keep it clean!