You can adjust the quality of the background filters, which hardware resources will be used, and also enable additional options such as chair removal.
Click the menu icon on the top-left corner of the VCam window and select Settings.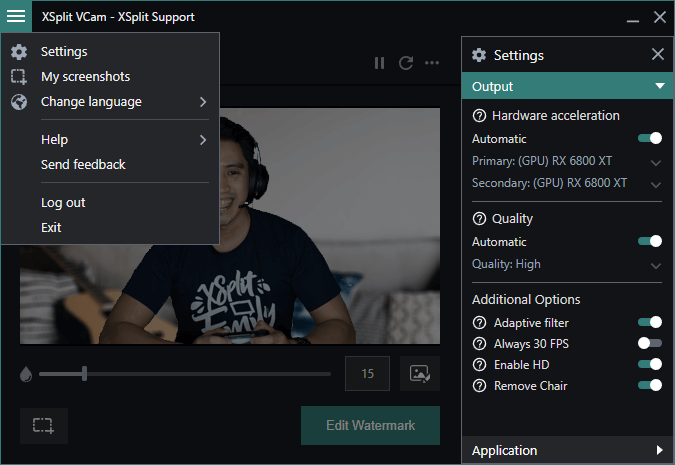 ---
Output
Hardware Acceleration
Allows you to select the specific GPU to use for the background filters or whether to use CPU implementation instead. The Automatic setting will adaptively select the most preferred hardware to process your camera and VCam filters.
---
Quality
Select the quality settings for the background filters. Higher quality settings will use more resources.
The Automatic setting will adjust the filter quality relative to the hardware resources available. We recommend using Low quality instead of Automatic for systems with lower specifications.
---
Additional Options
Adaptive Filter
Gives better stability for the AI to recognize your profile, especially in motion. This option is automatically enabled by default.
Always 30 FPS
This will keep VCam processing your camera always in 30 frames per second. This option is only recommended for high-Intel or Nvidia or AMD desktop hardware.
Enable HD
Using VCam in some apps lowers the resolution by default. This will keep VCam maintaining the preferred resolution.
Remove Chair
Allows VCam to try to preserve your high-back chair as part of the foreground.
---
Application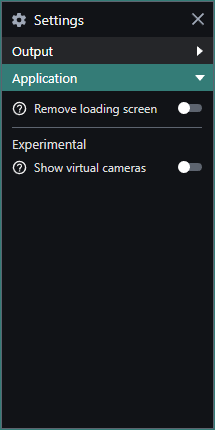 Remove loading screen
XSplit VCam logo loading screen will appear when being used on another app upon initialization. Enabling this option will show black screen instead.
This feature is only available for VCam license holders.
Show virtual cameras
Lists down any available virtual cameras under VCam's camera selection.
This feature is currently experimental and some virtual cameras may come up as errors. Please report any issues to our support team so we can test them.