Getting Started with XSplit Presenter
XSplit Presenter is a great tool for creating effective presentations intended for meetings, live demonstrations, and online classes
In this guide you will learn the basics of using the app. We have put together 4 steps which will help you make the most out of XSplit Presenter, from preparation to presentation.

XSplit Presenter allows you to load your very own presentation files from Powerpoint, Google Slides, and PDFs via the Connect Presentation Menu.
---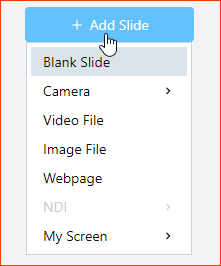 Improve interactivity with your participants by adding a camera, media files, and other elements to your presentation. These sources can be added as an entire slide by going to the Add Slide Menu, or via the Overlay Element Menu to add them as an overlay within an existing slide.
---

Your presentation can be shown to your participants by projecting it to another display/adding it as a virtual camera using your favorite video conferencing apps via the Present button, by clicking the Record Button to save a video of the entire presentation to your local drive.
---

Stream your presentation directly to popular platforms like Youtube and Facebook by clicking the Stream button. Link your social media accounts to share your stream to your viewers online!
---

XSplit Presenter comes with extra features and tools that will level up the look and feel of your presentation. The Laser pointer ensures that your viewers know where to look during the presentation. The Transition Menu will add transitional effects to each slide. The Annotation Tool allows you to write on your presentation screen, and Presenter Notes ensures you will not forget important details of your presentation.