Get your message across with XSplit Capture! Create screenshots and screen recordings and share them instantly using your unique links. Communicate your visual ideas easily by adding annotations and voiceovers to your recordings.
---
Logging In
You'll be asked to Sign In or Sign Up for an XSplit account upon launching XSplit Capture. Click on Sign In if you've already registered an account. And in case you haven't yet, go here to sign up for an XSplit account with your email.
Once you've clicked sign in, the app will use your browser to authenticate your XSplit account so make sure that it is logged in on our browser site first.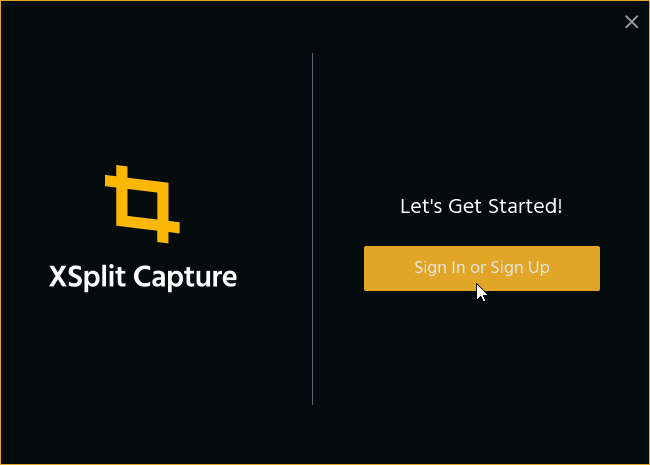 After successfully authorizing your account login, a prompt will appear at the bottom-right side of your screen showing XSplit Capture is ready and running. This means that the app is actively running in the background and can be accessed from your system tray.

---
Start Capturing
There are two ways to start your capture. One is clicking the XSplit Capture icon in your system tray and selecting Start Capture.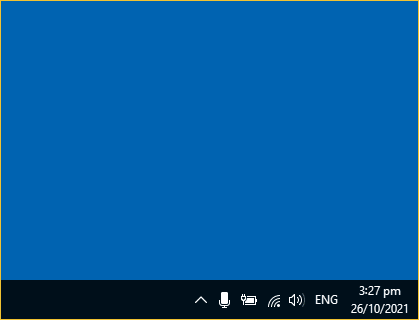 Another way to start capturing is by pressing a hotkey. By default, the set keys to start your capture are CTRL + Print Screen keys. The hotkey can be changed according to your preference in the XSplit Capture Hotkeys settings.
A prompt will ask you to take a screenshot or start recording a video.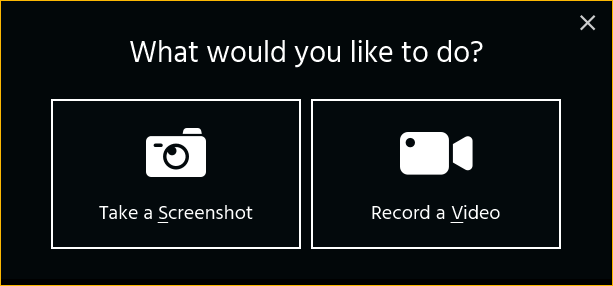 Choosing either of them will then let you smart-select an application window, a portion of the screen, or the whole desktop screen to capture.
To select only an area of your desktop screen, hold-click and drag the targeting reticle along the desired region.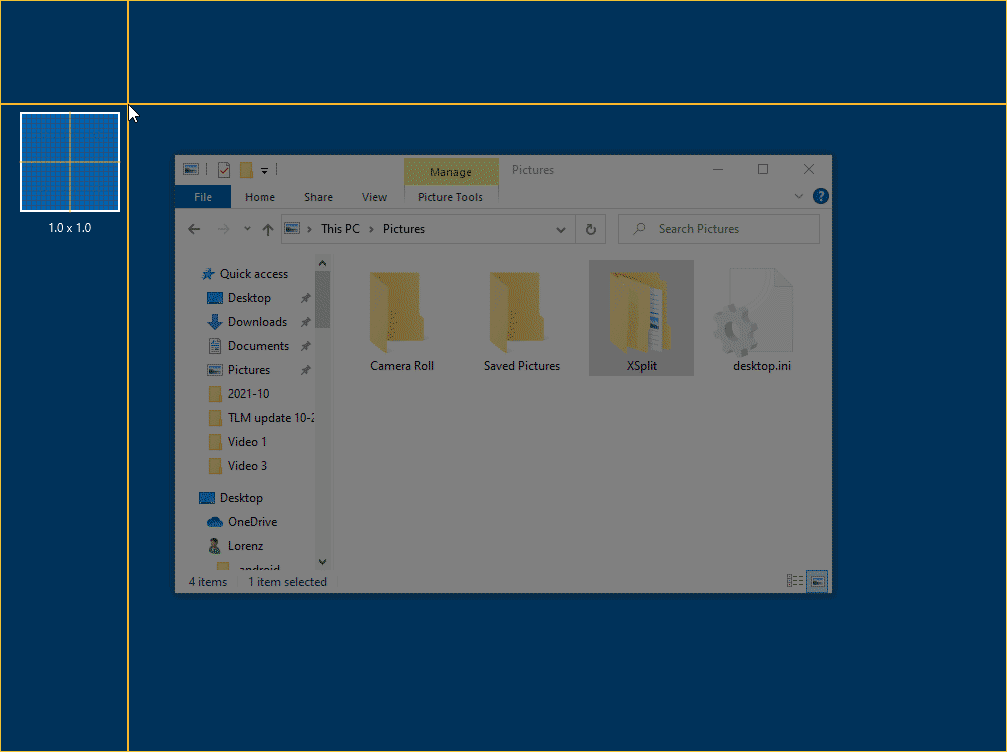 More options will open up once you've selected a window or region to capture.
---
Taking a Screenshot
At the top bar panel, click the camera icon to take a screenshot.

---
Recording a Video
You'll notice that the Camera icon looks different if you choose to record a video.
Click the Video Camera icon to start the recording of the captured region.

Click the Pause Recording button to temporarily stop the recording process. Selecting the Record button once more resumes the recording process.


The Redo Recording button comes in handy when you want to restart the entire recording process without having to save the current active capture in the cloud or your computer. The current recording is removed from memory and is overwritten by a brand new recording process.

The video recording will not hear your system audio but you can use your microphone to narrate or describe your capture as an audible annotation.

Click the stop button to end your recording.
Depending on your XSplit Capture Settings, the file will be saved either on the Cloud (which is accessible in your XSplit Account Dashboard's My Media), or as a local file in your computer, or Both.
Click here
to know more.
---
Sharing your Capture
There are also two ways to share your captured images:
On the My Media dashboard, select the captured image you want to share then click on Copy Link. This will copy a shareable link which you can paste on (or by pressing CTRL + V keys).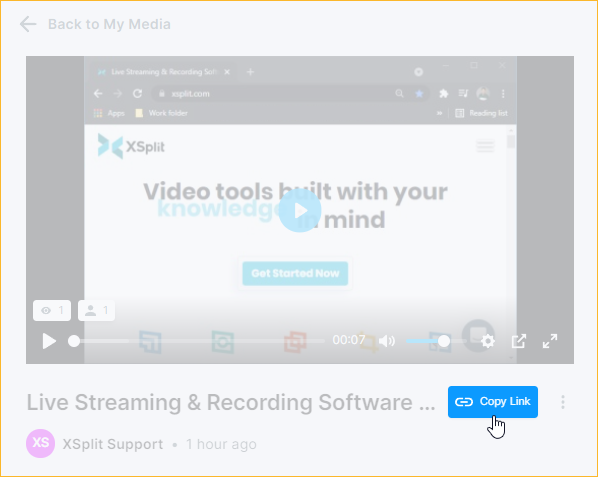 Share your capture right away without saving it. Click the Copy Image icon next to the Camera icon to start copying it to clipboard. This option will let you copy and paste it as an image, instead of a shareable link or image address.

---
Using Annotations
Another unique feature added in XSplit Capture is the ability to add annotations. While capturing a screenshot or a video recording, you can label a text description, arrow pointers, borders, scribble, and highlight.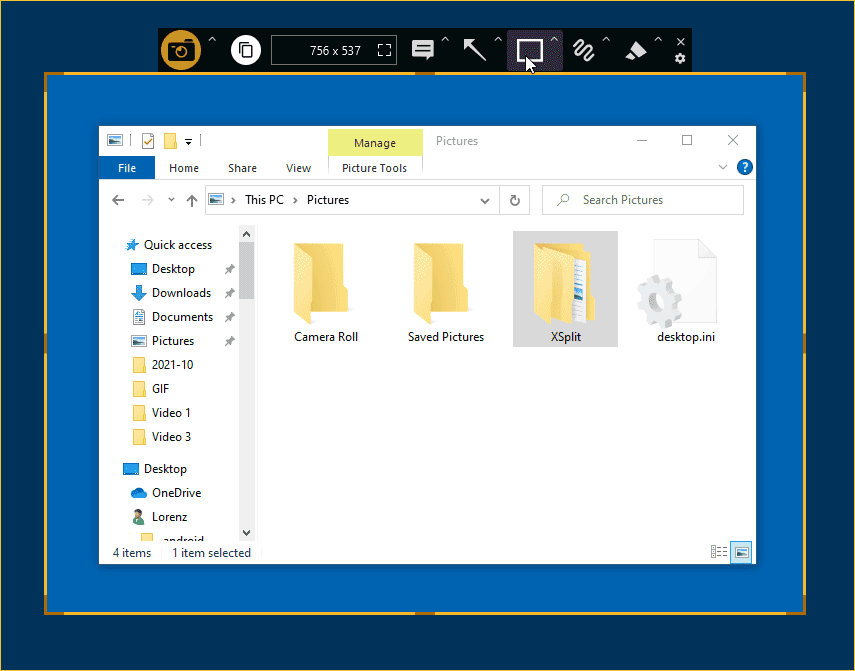 ---
Settings
General Options
The General Options allow you to change the app's behavior.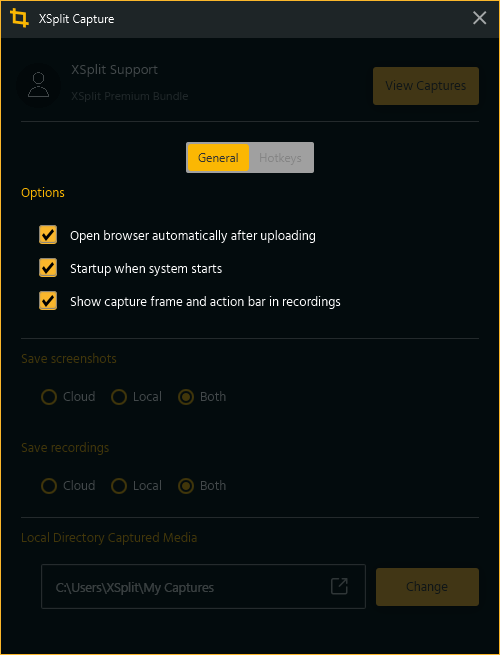 Open Browser automatically after uploading
Checking this will automatically open a browser tab and take you to your XSplit Account Dashboard's My Media to show your newly-uploaded capture.
Startup when system starts
Checking this will allow XSplit Capture to run in your system tray automatically when your computer starts.
Show capture frame and action bar in recordings
This option displays your capture's frame as well as the app's action bar.
---
Change where your captures are saved
XSplit Capture allows you to choose where your captured media are stored.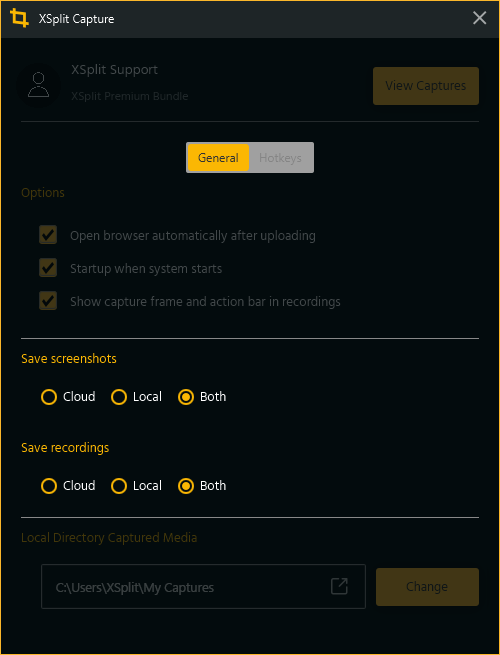 Cloud
The file is uploaded directly in your XSplit Account Dashboard's My Media
Local
The file will be saved directly to your computer (Default location is C:\Users<username>\My Captures)
Both
The file is uploaded to the cloud and saved to your computer simultaneously.
---
Access your captured media by clicking the XSplit Capture icon in your system tray and selecting My Captures.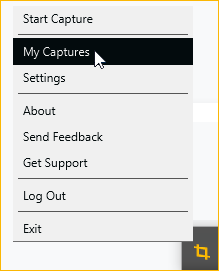 Locally captured media files, on the other hand, are located in %UserProfile%\My Capturesdirectory by default.

You have an option to change the location of your local media files in the settings and by clicking Change under Local Directory Captured Media.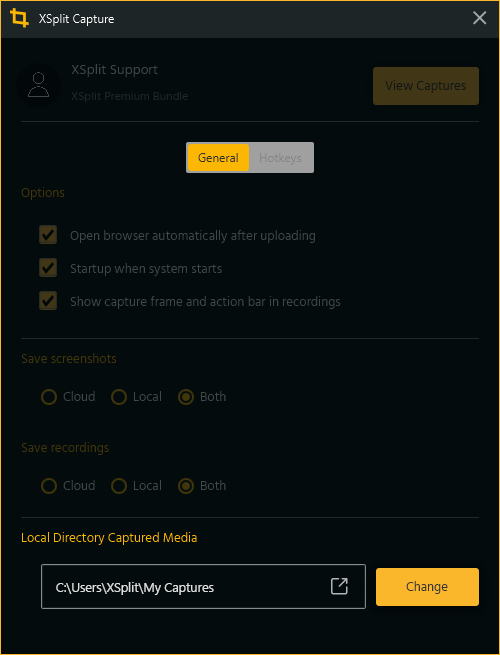 ---
Configuring Hotkeys
You can change the hotkey to whichever set of keys when you start capture, pause/resume recording, start/stop recording. The hotkey will react globally, so we recommend that you set a combination of keys.