---
I just bought an XSplit license, do I need to do anything else?
When you purchase a license, our system automatically enables the Premium features for your XSplit account. The changes are done server-side and you will not need to do anything else.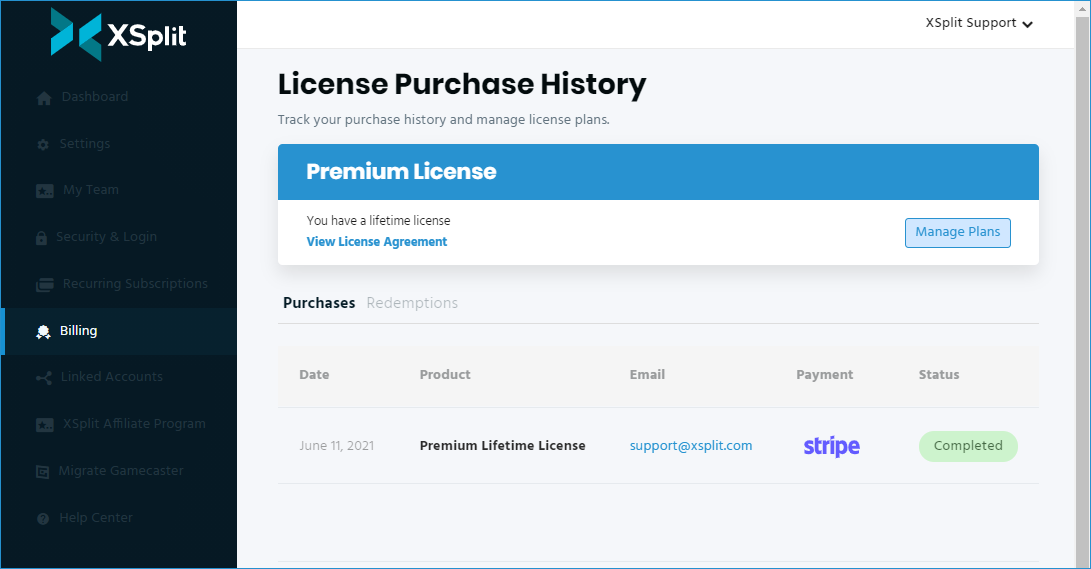 To check your license status, simply login and click on My Account on the upper-right of the page, select Account Settings then click on Billing.
The License Purchase History shows your current license status and expiration as well as previous licenses you've purchased. In case you think the information is incorrect, please contact Support for assistance.
---
I bought a license, why can't I still use the paid features?
If you have just purchased your license, then you will need to make sure you are synchronized with our server in order for us to update your information based on the license that you've purchased. The best way to do this is to relaunch the XSplit application you're using.
If you still can't use the licensed features, here are three other things you check:
If you've already relaunched your XSplit app, please make sure you are logged in using the account you've used to purchase the license. You can view the account you're logged into by going to Help then About on most XSplit apps.

If you've already re-logged in, please check the specific transaction details for your XSplit purchase. Sometimes depending on the card issuer, it could take some time for the transaction to be processed or approved. After their approval, our system should automatically apply the license to your account.
You can also check the status of your payment through on your
XSplit Account Settings' Billing section
.
Another common mistake some users make, is that they did not log in using the account they intend to purchase the license with. As a result, the purchased license doesn't go to the right account and users think the system did not record/detect the transaction correctly.
Please ensure that you are logged in with the account that you want to purchase the license with before you click on the Pay Now button when buying licenses.
If you want to double check, log out then log in again to ensure that you are purchasing the license using your desired account.
In the event that you've purchased an XSplit license on a wrong account, please contact our Support team. Please make sure to provide the account's email address and other details we can use to verify your account and purchase.
---
I cannot purchase using my credit card, what should i do?
First, make sure that your credit card is not restricted in any way for international transactions. Also check that all the details you've inputted such as your credit card number are correct.
If you still cannot purchase using your credit card, please contact our Support team to assist you on purchasing a license.
---
Can I use my XSplit license on a different computer or device?
XSplit licenses are account-based. A license holder can use their XSplit licenses on different computers but not simultaneously (ie. one PC logged into XSplit per account).
---
Can I transfer my XSplit license to another account?
XSplit licenses are non-transferable but a you can change the email address of your XSplit Account in your Account Settings.