녹화된 영상 관리하기
To find where your recordings are stored, go to File > My Recordings.

Both local recordings and automatically recorded broadcasts will be found here.
You can rename your selected recording by clicking the pencil icon and delete selected recordings by clicking the trash icon.
The Open Folder button opens your recordings folder in the File Explorer.
The Express Edit button opens the Express Video Editor with your selected video.
Changing the File Location
Click on … on the Locations bar and choose a folder for where your recordings will be stored.
Uploading Recordings to YouTube
Choose a recording that you want to upload, then click the YouTube icon at the bottom-right of the Recordings window.
An Upload Video to YouTube dialog will be shown.
Enter the details for your YouTube upload, then click UPLOAD NOW.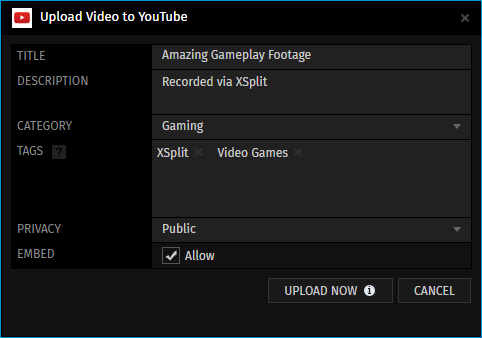 타이틀

Sets the title that will appear on your uploaded video.

설명

Sets the description that will appear on your uploaded video.

카테고리

Sets the category of your video upload for organization and target audience.

태그

Add tags to help users search for your uploaded video.

프라이버시

Choose whether the livestream is publicly visible, unlisted or private.

임베디드

Allow an embed code for your video upload.
Sharing your Recordings
Clicking any of the social media icons lets you share a YouTube uploaded recording on their respective social media platforms.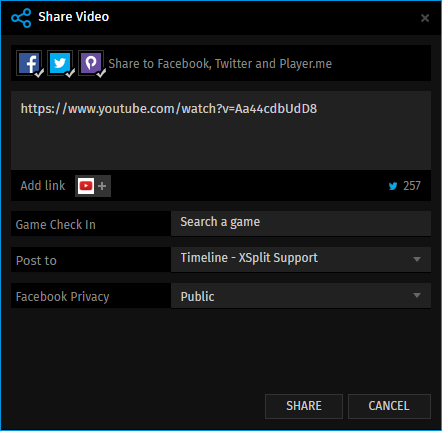 링크 추가

Click to add the YouTube upload URL in the custom message field.

게임 체크 인

Allows you to tag a game you are currently playing on a Player.me post.

게시할 곳

Select where you want to share your post whether on your own Facebook Timeline or on any of your pages that you are authorized.123

Facebook 개인 정보

Allows you to choose if your post is visible to the public, your friends or only you.