Textquellen ermöglichen es Dir, den Text mit einstellbaren Farben, Schriftarten, Animationen und weiteren Anpassungsmöglichkeiten anzuzeigen. Du kannst Dich entscheiden ob Du Deine eigenes Skript erstellen, laden oder aus einer Reihe verfügbarer Skriptvorlagen auswählen möchtest.
Hinzufügen einer Textquelle
Gehe zu Quelle hinzufügen und klicke dort auf Text...
Textquelleinstellungen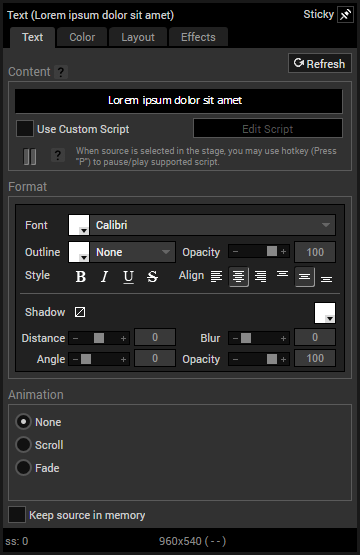 Inhalt
Hier kannst Du den Text eingeben, den Du angezeigt bekommen möchtest. You can also choose to use a custom script that will change how your text is displayed.
You can use the <br> tag to add line breaks for your text as well as use BBcode for formatting, color and other effects.
Format
This is where formatting options such as the font, text style and alignment can be changed. Options for adding outlines, shadows and changing the text opacity are available as well.
Animation
This is where you can set a scrolling or fading animation to your text sources.
Scrollen

Direction - The direction the text will be scrolling.
Speed - The speed of the scrolling animation at pixels per second.
Line Limit - The number of lines to be displayed for vertical text scrolling.
Überblenden

Delimiter - Character or characters that will be used to separate the text into segments to be shown per face effect.
Interval - The length of time that a text segment will be shown before fading.
Fade speed - The length of time that the fading animation lasts.