Facebook Post Reactions
Manual > Facebook Widgets > Facebook Post Reactions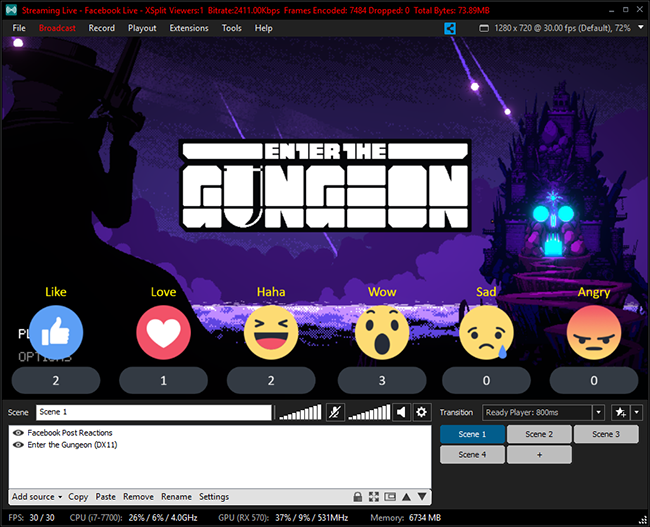 This widget keeps a live count of reactions on any post on your Facebook timeline - Like, Love, Haha, Wow, Sad and Angry. You can customize the text colors and labels, and select specific reactions you want to show.
This widget is not pre-installed, you will need to install them through the Plugin Store.
Once installed, you'll be able to find them under the Add source menu and then Facebook Widgets.
Adding the Facebook Post Reactions widget
Go to Add source > Facebook Widgets then Post Reactions.

The Facebook Post Reactions widget will now appear on your scene.
It will display Not connected to any Facebook Live post after adding it.
Right-click on it to show its properties window to connect the Facebook post you want to have the reactions displayed.
Facebook Post Reactions properties
Source

Account

Displays the currently authenticated Facebook account. Your Facebook account is automatically authenticated with the plugin if you login into XSplit Broadcaster using your Facebook credentials.
Click on Switch account to switch and authenticate a different Facebook account.

Post URL

Copy and paste the URL of the Facebook post that you want to have the reactions displayed.
Allowed URLs are public posts, posts on the authenticated account's timeline or pages that they manage.
The status above will also display if the widget is Connected or Not Connected



Display

Type

Choose whether to display a Reaction Poll or Reaction Counter.

Show Reactions and Labels

Enable or disable which reactions will show on the widget as well as replace their labels.

Counter BG

Changes the counter's background color. Click to choose from a preset pallete or to enter a hex triplet.

Opacity

Changes the counter's background opacity. The opacity slider will go from 0 to 100 percent.

Counter / Label

Changes the font and color of the counter and their labels. Colors can be chosen from a preset pallet or an entered hex triplet while the fonts can be chosen from the drop-down.
(Fonts shown will come from those installed in Windows)